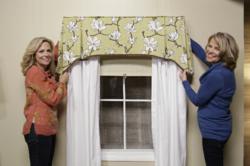 This step-by-step web class at Craftsy.com virtually guarantees success in sewing a beautiful custom window valance.
Newtown, PA (PRWEB) January 16, 2013
Home Dec In A Sec® founders Sue Sampson and Ellen DeLucia, sewing experts and McCall's Pattern Company window treatment pattern designers, are the featured instructors in the new Craftsy.com web class, "Sewing Custom Valances." The 10 lesson, 4-hour class, available for $49.99 at Craftsy.com, provides step-by-step instructions for sewing modern and affordable box pleat valances to dress up windows in style.
The online class provides instruction for sewing and mounting one of two McCall's Home Dec In A Sec valance sewing patterns, and the selected pattern is included with the purchase of the video. Beginning with a discussion of fabric selection, Sue and Ellen demonstrate proper window measurement, step-by-step sewing instructions and best practices in mounting. Techniques for personalizing the valances with a variety of creative embellishments from trims to applique are also discussed.
As with all Craftsy.com classes, the high-definition video web class can be watched any time and as often as desired. Additionally, the classes are interactive and allow students to ask questions and receive answers from other classmates as well as the instructors.
"Demand has been high for our sewing patterns and we're just thrilled to partner with Craftsy.com and offer our customers and fellow sewing enthusiasts this step-by-step class which virtually guarantees success in sewing a beautiful custom window valance," said Sampson. "The beauty of the video is that it can be paused and re-started as you go along. Plus, it's available and ready to go when you are and, when questions arise, we'll be responding to email inquiries within a 24-hour time frame."
To enroll in "Sewing Custom Valances," please visit http://www.craftsy.com.
About Home Dec In A Sec: Founded by Sue Sampson and Ellen DeLucia in 1989, Home Dec In A Sec provides sewing and decorating instruction and solutions for novice to expert sewers. Its top-selling pattern line with McCall's includes patterns for creative window treatments for every room in the home. Sampson's and DeLucia's book, The Window Treatments Idea Book, was published by Taunton Press in 2006. Sampson resides in Newtown, PA and DeLucia lives in Easton, CT.
About Craftsy.com: Recently featured in the Wall Street Journal, Craftsy.com is the contemporary source for crafting classes taught by the best instructors from around the world. Created for a growing community of passionate crafters, Craftsy.com offers high-definition, interactive video classes on sewing, quilting, knitting, food craft, and much more.