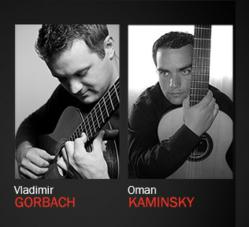 The D'Addario Performance Series has always been about hand-selecting the finest international rising stars..." -Suzanne D'Addario Brouder, Director
New York, NY (PRWEB) January 16, 2013
The classical guitar revolution rages on with another pair of extraordinary performances to be held at Carnegie Hall.
The D'Addario Performance Series continues on February 28, 2013 with performances by rapidly emerging classical guitarists Vladimir Gorbach and Oman Kaminsky. Part of the burgeoning scene of modern, musically adventurous classical guitarists, Gorbach and Kaminsky will pick up where their compatriots, phenoms Thibault Cauvin and Kyu Hee Park, left off at their electrifying Carnegie Hall performances last October.
Gorbach, who leading Andrés Segovia authority Graham Wade recently called a "brilliant young guitarist," is certainly doing his part to reinvigorate the classical guitar genre. His musical approach is broad and varied – simultaneously deep and expressive while also youthful and bright. Gorbach showcases a truly refined sense of dynamics and employs purposeful, punctuative pizzicato while he weaves hypnotic lines of counterpoint.
A native of Siberia, Gorbach has been performing internationally for most of his life. He has earned first-place awards in 10 of the world's most prestigious guitar competitions including the Guitar Foundation of America (USA) and the Naxos International Guitar Festival (Greece). February's Carnegie Hall performance will be part of his 50-city North American tour.
Oman Kaminsky, one of Mexico's leading young guitarists, plays with sophistication beyond his years. His style is simultaneously fluid and immediate while he subtly subjugates everything from the artful baroque to the dense, 20th-century modern.
"The D'Addario Performance Series has always been about hand-selecting the finest international rising stars and providing an opportunity for them to inspire New York City audiences. But that's only half the story," commented Suzanne D'Addario Brouder, director of the D'Addario Foundation. "These uniquely talented musicians also help us bring inspiration to city children during school visits organized with partnering education programs."
Since 1981, the D'Addario Foundation has been committed to inspiring and assisting the growth and appreciation of music throughout the world. The primary mission of the foundation is to support community-based music-education programs in underserved areas. School visits are arranged for many of the musicians who perform in the foundation's D'Addario Performance Series.
D'Addario Performance Series events are held at Weill Hall, the adorned and intimate 268-seat theater nestled inside New York City's famous Carnegie Hall. From Billie Holiday to Bob Dylan to the Buena Vista Social Club, the celebrated Manhattan landmark is no stranger to bold and dynamic performers of all musical genres who pushed the limits and defied expectation.
An after party will be hosted by the foundation in Carnegie Hall's Jacobs Room directly following the event. During the party audience members will have the opportunity to meet the performers and enjoy the open bar. All ticket holders are invited to the after party.
Ticket prices begin at $20 and can be purchased through Carnegie Hall's website at http://bit.ly/SSyA9H.
For more information about the event, the D'Addario Foundation or the D'Addario Performance Series please email [email protected] or visit daddariofoundation.org.