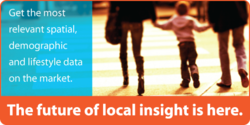 For data which affects life choices around where to live, work, shop, and socialize, the whole is greater than the sum of the parts
White River Junction, VT (PRWEB) January 15, 2013
Maponics, a leader in geo-spatial data, today released the first five datasets in a new suite of measured and modeled analytics offering unparalleled insight into the character of neighborhoods, school attendance zones, subdivisions, and other real- world geographies.
Maponics Context™ gives customers access to real estate activity, foreclosure activity, demographics, school rankings and crime activity in critical life geographies, including neighborhoods, school attendance zones, subdivisions and other areas relevant to businesses and consumers. By applying lifestyle and behavioral analytics to these geographies, Maponics Context provides compelling, distinctive and detailed insight into the character of a given area.
The product represents "a convergence of geography, data and analytics within local boundaries," says Michael Moshay, vice president for contextual analytics.
Darrin Clement, Maponics founder and CEO, elaborates: "For data which affects life choices around where to live, work, shop, and socialize, the whole is greater than the sum of the parts—you need multiple scores to really understand a given geographic boundary," he says. "Context can give you valuable insights into a neighborhood – the price trend of the housing stock, the ranking of the local school - that can really make a compelling case for buying a house there."
Additions and enhancements to Context in 2013 will include lifestyle and behavioral categories relating to mobility, daily and leisure activities, social sentiment, and environmental variables. Maponics Context, says Clement, "gives a holistic picture. It's way beyond demographics."
Maponics is a market leader in developing "intelligent polygons" that are meaningful on a local level; polygons that map neighborhood boundaries, local school boundaries, subdivisions, ZIP Codes, and more. Maponics Context applies highly sophisticated modeling to volumes of big data and conveys the results within its polygons to "paint a comprehensive picture of the neighborhood and the activity within it," says Moshay.
Clement says that the first five datasets in the Maponics Context suite address needs expressed by Maponics customers in the world of real estate and the Social/Local/Mobile/Commerce (SoLoMoCo) market. Context enables portals, for example, to give potential buyers far more detailed and relevant information about a neighborhood. Rather than send an appraiser to prospect every single home, those doing risk and value assessments can determine the value of a property more efficiently offsite.
Maponics Context enables marketers to further target their messaging, by focusing on the character of specific geographical areas and customers.
"Maponics clients will no longer have to search for, acquire and 'cobble together' data in a piecemeal manner," Clement says.
He says that Maponics' deep understanding of geofencing and polygons, its relationship to other data providers, and its strong connections with customers in real estate and SoLoMoCo have powered the Context suite.
Moshay says Context "is a natural extension of our product line; we're applying 'context' to our spatial data—going deeper and applying more value."
To learn more about Maponics Context, visit http://www.maponics.com, email info(at)maponics(dot)com or call (800) 762-5158.
About Maponics
Maponics has become the market leader for comprehensive boundary databases that underpin today's location-based services and analytics. Maponics creates, publishes and updates geographic files for the areas that define where people spend their time and money, such as neighborhood boundaries, ZIP Code boundaries and school boundaries. Maponics' customers include many of today's best-known web, social media and real estate brands, including over 70% of the top real estate websites. The company is headquartered in Vermont. For additional information, visit maponics.com.
Maponics and/or other noted Maponics related products contained herein are registered trademarks or trademarks of Maponics, LLC. All other registered and unregistered trademarks herein are the sole property of their respective owners.
© 2013 Maponics, LLC. All rights reserved.