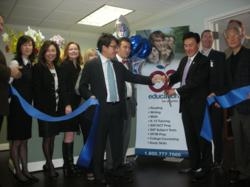 We were so pleased by the wonderful reception we had from the local community.
Vienna, VA (PRWEB) January 22, 2013
C2 Education, the fastest growing network of educational support centers, celebrated the Grand Opening of its newest center in Vienna, Virginia on Saturday. The addition of this new center, located at 527 Maple Avenue in Vienna, means that C2 Education now has over two dozen locations in the Virginia/Maryland region.
"We were so pleased by the wonderful reception we had from the local community," says C2 Education founder and CEO David Kim. Guests at the Grand Opening events included Vienna Mayor M. Jane Seeman, Virginia State Senator Chap Peterson, Virginia House Delegate mark Keam, representatives from the local Chamber of Commerce and the local Women's Chamber of Commerce, and the President of Korea Times. Dozens of local residents enjoyed excellent food and the opportunity to meet with C2 Education's Academic Advising Team.
C2 Education's uniquely personalized programs provide residents access to unprecedented academic support. C2 serves students in grades K through 12, providing a wide range of services including subject tutoring, test preparation, and college admissions counseling. "We had a number of parents express interest in our programs, and we hope that other local residents will take advantage of the services we have to offer," says Mr. Kim.
About C2 Education:
C2 Education was founded as an in-home tutoring service run out of a Harvard dorm room in 1997. From those humble beginnings, C2 has grown to include more than 120 tutoring centers across the country serving thousands of students each week. C2 students enjoy fully customized programs, one-on-one interaction with highly qualified teachers, and the support needed to succeed throughout their educational careers. C2's results speak for themselves: C2 students increase their SAT scores by an average of 350 points, 100% of C2 students pass state standardized tests, and 85% of C2 students go on to attend a top 50 college or university. For more information about C2 Education, please visit http://www.c2educate.com or call (800) 777-7000.