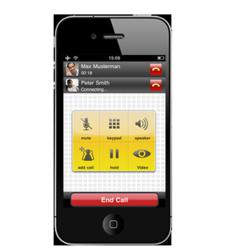 VPHO maximizes your experience during your conference call by optimizing your bandwidth and camera performance.
(PRWEB) January 16, 2013
VPHO, the "Appsolutely All" around solution to mobile video communication, combines the useful features of each of its leading competitors into one single functioning app. With VPHO, users are able to use and enjoy all-in-one communication for 3G, 4G, and Wi-Fi access.
The app allows users to communicate with friends, family, and business professionals around the world through voice and video calls with crystal clear precision. Other features include high-quality messenger features for text, video and audio messaging, and file sharing.
Additionally, the VPHO app includes video and voice conferencing – something offered by no other app currently available.
"Our focus is to make VPHO more fluid and minimize any lag-time the user may have previously experienced," says Yuda Hadar, CEO of VPHO.
Changes to the chat screen now make it so the user can see the status of another user that he is currently chatting with. This newly added feature to the VPHO chatting gives the user knowledge of whether or not the other user involved in the open conversation is online or currently offline, as well as how long since they were last active on VPHO.
For more information about VPHO, visit http://www.vpho.com.