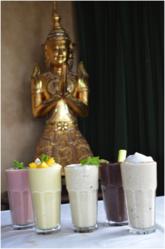 "Our fresh organic smoothies represent our whole-body approach to health in a delicious and fun way," said BODY owner Lorin Parrish
Santa Fe, NM (PRWEB) January 15, 2013
BODY of Santa Fe develops a new line of smoothies for the New Year. Formulated for specific dietary needs, whole fruit and vegetable smoothies include high protein, low-calorie and non-fat options. Body Café's smoothie combinations include:

High-Protein Banana Strawberry Smoothie: Bananas, strawberries, honey, vanilla, cinnamon, and almond milk combine for a smooth, sweet, and satisfying smoothie with a protein punch. 30 grams of protein and 167 calories per serving.
Low-Calorie Tropical Fruit 'n Cream Smoothie: Made with coconut milk, almond milk and a whole mango, this smoothie is a cold weather pick-me-up reminiscent of the tropics. 90 calories per serving.
Non-Fat Green BODY Smoothie: BODY Café's Signature smoothie combines banana, blueberries, collard greens, a whole apple, dates, cucumber and celery. Not too sweet, this satisfying smoothie is packed with healthy rich greens. Zero grams of fat and 140 calories per serving.
"Our fresh organic smoothies represent our whole-body approach to health in a delicious and fun way," said BODY owner Lorin Parrish. "Only the best natural ingredients go into our smoothies ensuring health from the inside out."
BODY Café's new line of smoothies will be available beginning in January of 2013. For more information please visit http://www.bodyofsantafe.com or call (505) 986-0362.
For press inquiries, contact:
Jennifer Hinsley
JLH Media
505 603 8643
Jennifer(at)jlhmedia(dot)com
###
About BODY of Santa Fe: Founded by Lorin Parrish in 2004, BODY is a yoga, Tai Chi Chih and dance studio, café, spa, fitness center and boutique as well as a childcare center and yoga teacher training facility located in downtown Santa Fe. Built on the premise of functioning as a community center that inspires and encourages wellness, BODY is known for its commitment to sustainable, organic and fair-trade products in its boutique and selections of raw and vegan food as well as wheat, dairy and sugar free meals. BODY's café includes selections of wild line-caught fish and locally grown chicken and lamb as well as organic wine, local organic beer and sake, veggie cocktails and elixirs. A new 200 hour Vinyasa teacher-training program, BODY Yoga School, began in spring of 2012. BODY was recently voted by Santa Feans as the best yoga studio, restaurant for vegetarians and place for a facial and massage. For more information, please visit http://www.bodyofsantafe.com or call 505.986.0362.