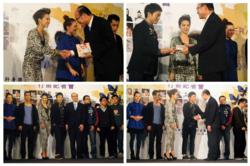 (PRWEB) January 15, 2013
Dubbed Asia's undisputed "Queen of Pop," Jolin Tsai will headline a showcase of talented acts for "Taiwan Music Night" at Paris' renowned concert hall Le Trianon on January 30th. Joining her will be folk-pop singer and songwriter William Wei and electronic techno duo Salamander. The showcase is funded by Taiwan Ministry of Culture and organized by GCA Entertainment. The night will open with a press conference at 18h00 where Jolin will be joined by Jean Michel Jarre to present their collaboration on large-scale performances throughout Europe & China as part of his Oxygen project.
WHAT: Taiwan Night
WHERE: Le Trianon
80 boulevard Rochechouard, 75018 Paris, metro Anvers
WHEN:
6:00-7:00 - press conference (Jardin d'Hivers)
8:00 - William Wei
8:50 - DJ Salamander
9:40 - Jolin Tsai
TICKETS:
Ticketnet: http://www.ticketnet.fr/manifestation/idmanif/277925
Fnac: http://www.fnacspectacles.com/place-spectacle/manifestation/Pop-rock-Folk-TAIWAN-MUSIC-NIGHT-TRTAI.htm
In conjunction with Midem in Cannes, Taiwan has selected amongst its most established as well as promising musicians to bring to Paris for a unique performance. Last year witnessed a sold-out show at Le Divan du Monde, featuring multi-award winning band Mayday, Aboriginal reggae group Matzka and singer Yen-J. As a result of last year's success, this year's concert was moved to the much-larger Trianon for a show worthy of a Pop Queen!
Jolin Tsai
Jolin is the award-winning Taiwanese singer, dancer, songwriter, actress and entrepreneur that has toured around Asia, North America and Australia. She began her singing career by winning the top prize at the MTV singing competition with her rendition of Whitney Houston's #1 hit "Greatest Love of All" at the tender age of 18. Since her debut in 1999, she has received countless awards across Asia, including Most Favorite Female Artist and Best Female Artist at the prestigious 18th Golden Melody Awards in 2007. She has released 10+ albums, selling over 23 millions records, and currently on her 3rd World Tour, the MYSELF WORLD TOUR. Her sold-out concert crowd in London on October 21, 2012 was her first step into Europe, which was one of the most spectacular pop concerts to take place at the Wembley Arena in 2012.
http://jolin.info/
William Wei
Often compared and considered as "the Asian Jason Mraz," William Wei is an award-winning Taiwanese folk-pop singer and songwriter that has toured around the Greater China Region. He began his career by publishing self produced music on the creative blogging platform Streetvoice, then his fame rose overnight as the 2007 Champion of the CTS variety show "Happy Sunday" Campus Singing Contest. In 2010, William released his first eponymous debut album that led to numerous international award nominations and subsequently Best New Artist at the 22nd Golden Melody Awards in 2011.
http://www.weibird.com/main.html
Salamander
Three-time Golden Indie Music Award-winning Taiwanese electronic techno duo Salamander consist of male DJ, DJ Phoenix, and half Taiwanese half French female DJ, DJ Kloette. This disc jokey duo have transformed from the typical dance music DJ group into an alternative electronic, breakbeat house band who actively perform live remixes with other artists and bands. Their music is influenced by many artists such as "Aphex Twin" and "Royksopp". Salamander's style of play range from high octane dance beats to emotional soft music, redefining common techno, trance and breakbeats. A mutated new blood of electronic has been discovered in Asia!
https://www.facebook.com/salamander.yz.com.tw
Contact Info: Jean Hsiao Wernheim, jean(at)a-peer(dot)com, +46705615257
Eric de Fontenay, MusicDish, chinasounds(at)musicdish(dot)com, +1-718-278-0662