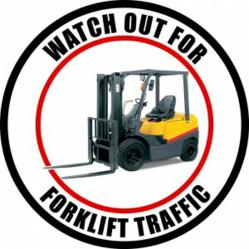 "The Forklift Warning Signs have reduced accidents in our warehouse by over 25%. The quality and ease of installing the signs could not be any better."
Lake Oswego, OR (PRWEB) January 17, 2013
Creative Safety Supply's mission is to make every facility across the nation a safer workplace for staff and visitors. One solution for creating safety is through the use of safety signs that will draw attention and alert workers of danger or possible hazard zones. Creative Safety Supply is now offering a variety of signs including Forklift Traffic Signs that will prevent accidents from happening and will also assure regulations are being followed through OSHA standards.
Forklifts abound in warehouses and Creative Safety Supply offers a "Watch Out For Forklift Traffic" sign that has proven to reduce accidents from pedestrians entering forklift traffic lanes. Electrical panels are seen in many warehouses and can be very dangerous if the panel is blocked by unnecessary clutter. A sign to keep electrical panels free of clutter so emergency personnel can get to it quickly is the "Electric Panel: Do not Block" sign. Both signs are printed on industrial-grade vinyl and are available in multiple sizes from 12 inch to 32 inch in diameter. These are only a couple examples of safety signs available through Creative Safety Supply.
The broad selection of safety signs will give a company or organization reinforcement to provide a culture of safety in the workplace. Safety signs help to prevent accidents, and to streamline response procedure after injuries have occurred. Safety signs will reinforce proper training and other important guidelines that most employees receive through continuous safety workshops. A happy and healthy workforce will be able to report for duty day in and day out. Productivity will increase along with safety numbers and in the end a company will profit in success, sales and be competitive with others in the same market.
A warehouse manager commented, "The Forklift Warning Signs have reduced accidents in our warehouse by over 25%. The quality and ease of installing the signs could not be any better."
For more information about the wide selection of warehouse safety signs, please visit http://www.creativesafetysupply.com/safety-signs/ or call toll-free (866)777-1360 to speak with a professional representative.