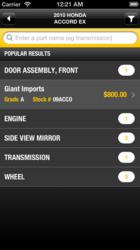 There are no other apps available that offer these nationwide real-time used part search capabilities.
Dallas, TX (PRWEB) January 18, 2013
Get Used Parts allows users who are looking for used car parts to instantly search live inventories of auto part suppliers nationwide. Users select their vehicles' year, make, and model—or use the built-in VIN decoder— and enter their location. They are then brought to a list of commonly searched parts for that vehicle, or they can search for something specific. On the search results page, users can click on the part they're interested in to view the supplier's contact information and location. The price for every part is also prominently displayed, so users will can view and compare costs before ever contacting a supplier.
"When a part in your vehicle fails, it can be daunting to figure out what to do to replace it. Do you head to your local mechanic? Do you scour the Internet hoping to find the right part at a decent price? Or, do you head to a big box parts store? With the relaunch of GetUsedParts.com, searching for used car parts has become a much more fluid experience, and, with the arrival of Get Used Parts' very first iPhone app, users can now quickly search for used parts on the go," said Director of Operations RueDee Caruso.
The free Get Used Parts app has much of the same functionality as the desktop site. Key components include the Find Me feature, which automatically detects a user's location and allows visitors to sort results by distance, the ability to sort by price, allowing visitors to display the most inexpensive parts first to easily find parts within their budget, and the capability to email or call the supplier directly from their phones.
"There are no other apps available that offer these nationwide real-time used part search capabilities. Our free Get Used Parts iPhone app is easy to navigate and boasts a clean, modern design that makes searching for used parts quick and painless. And, with everyone always on the go, accessibility is important to a lot of people, which is exactly what we brought to the table with this app," Caruso said.
The Get Used Parts iPhone app is now available for free in the iTunes Store.
About Get Used Parts
Used automotive part search engine GetUsedParts.com first went live in 2003. The site relaunched in late August 2012 with a new look and reimagined functionality. It is now currently beta testing with hundreds of active suppliers who list their used parts inventories in real time so that users can quickly find used auto parts available for their vehicle. Suppliers interested in becoming featured on GetUsedParts.com can apply on the website.