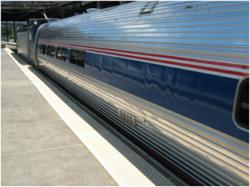 The Conference Car is a great facility, especially on its US East Coast route; perfect for meetings on the move, to and from NYC and DC.
Chippenham, Wiltshire, UK (PRWEB) January 23, 2013
Private Rail Cars offers the AMTRAK Conference Car for delegate travel and meetings on routes that include New York, Boston, Washington DC and Chicago. The Conference Car can also be teamed up with a sleeper car for longer distances.
The Conference Car is a useful way to make the most of a private rail car journey in the USA. Seating up to 30 (18 in the club section and 12 in the club salons) as well as a conference room seating up to 8, the rail car allows teams to work privately on the move, travelling at up to 125mph.
Examples of railway journeys on which the Amtrak 2800 Conference Car may be used, subject to planning, include between New York Penn Station and Boston South Station or Washington DC Union Station or Chicago Union. It is worth emphasising the importance of the Washington DC routing for meetings, lobbying and delegate travel. The conference railroad car can be teamed with a private sleeper coach for overnight journeys or longer trips.
Most clients contacting Private Rail Cars seek a VIP or luxury train travel solution guaranteeing better security and privacy than executive buses; for many, carbon responsibility, a spacious working environment and effective use of travel time between cities are also important. The private Conference Car satisfies all those objectives.
The private rail car has the following sections:

Boardroom / conference table for 8 delegates;
Salon section in which all 12 seats have tables and an AC power outlet.
There is a monitor / screen;
Galley / snack bar;
Club section with leather seats for 18 and an AC power outlet;
Two toilets.
The Conference Car can be added to certain scheduled Amtrak services, or be part of a private train charter.
Simon Pielow of Private Rail Cars says, "The AMTRAK Conference Car is a great facility, especially on its US East Coast route; perfect for meetings on the move, to and from New York and Washington DC."
For more information, please email infoATprivaterailcars.net or call +44 (0)1249 890176.
About Private Rail Cars
We handle unique, individual and private luxury rail journeys for our clients.
From individual seats to entire rail cars, carriages and trains, we're able to help you select and experience the world's greatest train journeys.
Luxury & VIP Train Travel
Private Rail Cars is part of the Train Chartering group. Now well into its second decade, Train Chartering has provided private train charters and private train car hire to an extraordinary range of clients.
Train Chartering operates mainly in the UK, Europe and North America - though we can arrange VIP and luxury travel almost anywhere in the world.
The extent and professionalism of the company's project and guest management services is unique in the rail industry and rare in the passenger charter sector; caring for every aspect of your event, from first contact through to ground handling in stations and transfers to the post-trip event.