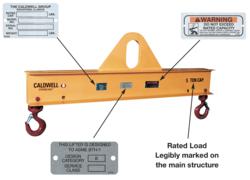 Kansas City, KS (PRWEB) January 23, 2013
American Rigger's Supply and The Caldwell Group have joined together to provide end users with the largest range of standard products available meeting the design, construction and testing requirements of B30.20. Whether the solution is something as simple as a lifting beam or a patented, ergonomically designed Posi-Turner, powered sling material handling system, an answer can be provided for loads weighing in excess of 150 tons.
The American Society of Mechanical Engineers B30.20 standard applies to Below-the-Hook Lifting Devices. This consensus industry standard is voluntary in terms of the law. However, if the choice is made to ignore its recommendations and requirements, additional risk is created for employees and their employers as well. Often times O.S.H.A. will refer to A.S.M.E. standards when evaluating working conditions in terms of safety. After a worker is injured on the job is a regretful time for the question to come up regarding why there was a lack of compliance.
On occasion, the end user is under tight time constraints and a lifting device is required without an extended lead time. Caldwell's newly developed QUICKSHIP and INSTOCK initiatives, combined with American Rigger's in-house inventory of lifting beams, lifting clamps and alloy j-hooks, enables American Rigger's Supply to respond promptly in many of those circumstances.
Sometimes situations arise where a standard lifting device will not provide a proper solution. In those cases, the experienced customer service personnel at American Rigger's Supply, working with Caldwell's knowledgeable engineers, can design and fabricate suitable lifting equipment, meeting the B30.20 criteria for Below-The-Hook devices.
Whether the solution is standard or custom, Caldwell just recently announced their new 2 year warranty, the industry's first and only, as "a promise of performance".
For any lifting application, with forty plus years as a sling fabricator and rigging supply house, American Rigger's Supply provides industry with a valuable source for all rigging equipment requirements.

Wire rope slings
Alloy chain slings
Wire mesh slings
Lifting beams
Lifting clamps
Rigging hardware
Hoists
The knowledgeable customer service staff at American Rigger's Supply has over 200 years of experience with the company. There is a dedication to assisting end users find answers to all questions regarding rigging equipment. The partnership between The Caldwell Group and American Rigger's Supply can provide companies a partner with answers and lifting equipment compliant with today's standards. And, in the end, assist in minimizing risk.