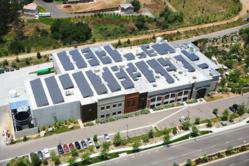 FIGTREE puts the benefits of cost-cutting energy and water upgrades (and the enticing tax credits and cash rebates for which they qualify) within reach of most any property owner
SAN DIEGO, CA (PRWEB) January 18, 2013
San Diego commercial property owners are gaining access to a unique financing option for money-saving renewable energy, energy efficiency and water conservation improvements this new year that can create positive cash flow from month one. It's available through an innovative Property Assessed Clean Energy (PACE) program known as FIGTREE, now being offered by the City of San Diego.
"Applications are being accepted to provide commercial property owners with 100% up-front, long-term financing for energy and water efficiency building upgrades and renewable energy systems that can reduce operating costs, improve property values and provide a valuable hedge against rising energy costs for decades to come," said FIGTREE CEO Mahesh Shah.
FIGTREE arranges financing (and mortgage lender consent) for property owners by aggregating and selling the projects as municipal bonds. FIGTREE – now operating in 25 jurisdictions -- was the first in California to successfully initiate this new mode of financing in multiple markets. No public monies are used to support these programs.
FIGTREE finances projects ranging from $5000 to those in the millions of dollars (all contingent upon qualified property values). The next bond issue is slated for the first quarter of this year.
"The unique properties of PACE provide solar contractors, energy efficiency and water conservation professionals with a brand-new funding vehicle to help clients realize the benefits of energy improvements without adversely impacting their credit scores – or their borrowing capacity," noted SunUp Energy's President Rick Rothman.
"FIGTREE's brand of PACE financing puts the benefits of cost-cutting energy and water upgrades (and the enticing tax credits and cash rebates for which they qualify) within reach of most any property owner," said Rothman.
Rothman says that with the rich new incentives for solar water heating that are now available, 2013 will be a banner year for apartment owners, the hotel-motel industry and healthcare providers, who can see full system payback in as few as four years. "From then on," Rothman added, "all those solar savings translate into pure solar profit."
PACE funds can be used for materials and labor costs of permanently-installed improvements that reduce a building's use of grid-supplied energy or water. Solar photovoltaics (PV) and solar water heating; wind and geothermal; cool roofs; heating and air conditioning (HVAC); energy-efficient lighting; windows, door and elevator upgrades; boilers and chillers; water treatment and conservation improvements, fixtures, xeriscaping and electric vehicle charging stations are some of the projects eligible for financing under the program. Financing obligations for PACE improvements can be transferred to new owners if a property is sold.
PACE funding requires no minimum FICO score for property owners and no money down. Financing is based strictly on property values – usually 10% of an assessed property's value; sometimes more – something that bodes well for property owners in San Diego, where real estate prices are on the rise.
FIGTREE PACE also provides for attractive off balance sheet financing for property owners that can be amortized for periods of up to 20 years as a voluntary line item on their property tax bills.
"PACE is a municipal economic development tool that improves property values and puts contractors back to work while helping the City of San Diego meet its AB 32 emissions reduction goals," noted San Diego City Council President Todd Gloria. "PACE improves the integrity of local building stock, creates a more sustainable San Diego and -- with the savings today's energy efficiency, water efficiency and solar technologies provide -- reinforces that good economic and environmental practices are not mutually exclusive. The entire region benefits," Gloria added.
FIGTREE financing is available via an assessment district established by the California Enterprise Development Authority, a joint powers authority who works in partnership with cities and counties across the state. FIGTREE's PACE program is endorsed by the California Building Industry Association, California Business Properties Association, Building Owners and Managers Association (BOMA), Region Builders, Inc. and municipal sustainability and economic development professionals throughout California.
ABOUT FIGTREE PACE: FIGTREE is a full-service, San Diego-based clean energy finance company providing breakthrough, 100% up-front off balance sheet PACE (Property Assessed Clean Energy) financing to help commercial and residential property owners improve their properties and realize the money-saving benefits of energy efficiency, renewable energy and water conservation upgrades with no money down. FIGTREE helps cities and counties create jobs, spur economic development and meet their AB 32 goals utilizing no public monies. FIGTREE is the first company in California to successfully raise private capital for commercial PACE projects via a multi-jurisdictional bond issue. Learn more by calling 1-877-577-7373 or visit us at http://www.figtreecompany.com.