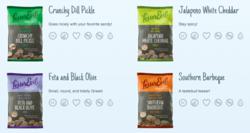 Wilton, CT (PRWEB) January 14, 2013
LesserEvil Healthy Brands Co.--a healthy snack food company located in Connecticut--announces Earth Fare will now offer Chia Crisps at all thirty locations in North Carolina, Georgia, Alabama, South Carolina, Tennessee, Ohio, Kentucky, Indiana, and Florida. Earth Fare, a natural and organic supermarket, now sells all four flavors of LesserEvil's black bean and milled chia seed chips.
"Earth Fare is very selective with the products they bring in for their clientele," says LesserEvil CEO Charles Coristine. "We are excited that the chip was well-received and met there strict quality standards. That speaks volumes about our products."
LesserEvil Chia Crisps offer a healthy alternative to traditional potato or rice-based snack foods without compromising on the flavor. Made with black bean and milled with Salba® Chia, Chia Crisps offer a higher protein and fiber content than other chips. In addition, the chia seed provides a rich source of Omega 3, fiber, minerals, vitamin C and antioxidants.
All thirty Earth Fare Supermarkets will carry the four-ounce bags of all four flavors: Southern Barbeque, Crunchy Dill Pickle, Jalepeno White Cheddar, and Feta and Black Olive.
About LesserEvil
LesserEvil Healthy Brands, founded in 2004 and headquartered in Wilton, CT, provides snack products in the health food sector. Their products include Krinkle Sticks, Kettlecorn, Chia Pop, and Chia Crisps.