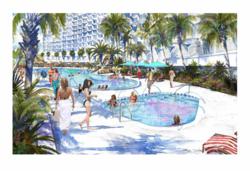 Panama City Beach, Florida (PRWEB) January 16, 2013
Pool parties at the Holiday Inn Resort will be even better this Spring Break with exciting enhancements on the pool deck! The resort pool deck is currently under construction with the project scheduled for completion before class lets out for SB 2013!
The main pool is being reconfigured to have two shallow ends of approximately 3 feet deep, giving breakers more room to stand, dance, and party in the pool! The deepest point of 4'9" will be in the very middle of the pool, and poolside benches will be installed on both sides. This layout will make the main pool more party-friendly and more enjoyable for all of the resort's breakers! Not only will the layout be better for partying, the pool's new amenities will completely change the party experience! The main pool will not only be heated, it will also be enhanced with an underwater music system, providing crystal clear audio.
Additionally, the small pool will now be heated and there will be jets of water forming arches that will be lighted, along with the underwater music system, creating a club-like feel after dark. This pool will be 4'5" deep at its deepest and offer benches allowing breakers to sit and relax in the water.
Both pools will have a salt water system that is gentle on the skin and more environmentally friendly. The resort team is excited about the changes to the pool deck and looks forward to seeing all the breakers enjoy the new features the pools will offer in 2013! For more information on the Holiday Inn Resort or Spring Break 2013, visit http://www.springbreakhq.com.