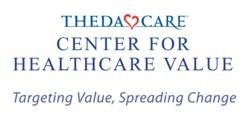 Appleton, WI (PRWEB) January 17, 2013
ThedaCare Center for Healthcare Value CEO Dr. John Toussaint co-authored The Promise of Lean in Healthcare, an article published in the latest Mayo Clinic Proceedings. The article highlights the importance of lean for the healthcare industry, as well as the positive results achieved by leaders in the Healthcare Value Network, a peer-to-peer learning group facilitated by the Center.
Those leaders include: Christie Clinic, Inova, New York City Health and Hospitals Corporation, Martin Health System, Seattle Children's, St. Jude Medical Center and ThedaCare.
Dr. Toussaint co-wrote the article with Dr. Leonard Berry from Texas A&M University. A year ago, Dr. Berry embedded himself in the ThedaCare system to gain a deeper understanding of the inner workings of a lean healthcare organization.
Based on that experience, Dr. Toussaint and Dr. Berry worked together to write The Promise of Lean in an effort to explain what lean means in healthcare. After starting with a basic definition, the article explores six core principles of the lean transformation: an attitude of continuous improvement, value creation, unity of purpose, respect of front-line workers, visual tracking and standard work.
"Our intent with this article is to bring lean thinking into the mainstream of physician activity," Dr. Toussaint stated. "We use powerful examples from Healthcare Value Network members to explore how lean can drive value in healthcare."
ThedaCare Center for Healthcare Value
The ThedaCare Center for Healthcare Value is transforming the healthcare industry to deliver higher value through experiments, collaboration and education that integrate three interdependent components: delivery, transparency and payment. In these areas, the Center spreads learning and accelerates improvement. Learn more at: http://www.createvalue.org.