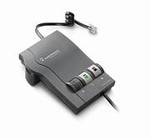 Plantronics M22 Vista amplifier designed for use with H-Series headsets.
Burlingame, CA (PRWEB) January 15, 2013
TheHeadsetShop.com now offers no cost same day shipping on orders over $199 with a 30 day money back Guarantee. It is a global technology company specializing in supplying wireless communication accessories including of wireless Bluetooth headsets and hands-free car kit Speakerphones. Offering leading-edge technologies into contemporary and fashionable wireless accessories like Plantronics M22 Vista amplifier and GN Netcom 8000 MPA amplifier, it has emerged as a reliable name in the market.
Wireless technology now allows office workers to communicate without the need for cables or wires of any kind. Users can now work completely hands free which allows them to complete other tasks while talking such as using a keyboard, filing, flipping paper etc. Wireless Bluetooth headsets from the company come with options that allow users to pick up calls when they are not at the desk.
It is reported that usage of wireless Bluetooth headsets has reduced the number of road accidents to a greater extent. On the whole, a small device Bluetooth Headset has been the life saviour of many people. Now that wireless Bluetooth headsets are quite common, they are available in different designs with different features as well.
The more buyers can spend the more features they will get. In order to save money, one can look for some deals offered at different stores. TheHeadsetShop is the best in this regard as it offers attractive deals going on all round the year and one might get a high quality Bluetooth Headset at lower prices. It provides reliable solutions for all communication requirements delivering industry leading sound innovation with new breakthrough technological advances.
TheHeadsetShop.com provides same day shipping along with a 30 day risk free money back guarantee with no restocking fees. One can contact their expert customer service representatives for more information and help in selecting a compatible system.
About TheHeadsetShop.com
TheHeadSetShop.com offers a variety of call center solutions by Plantronics, Jabra and GN Netcom. A large selection of wireless systems for both computers and office telephone headsets that are ergonomically safe and reliable source for hands free communication in the home, office or dispatch center at the company can be bought online now. All hands free systems shipped brand new factory sealed direct from the manufacture and include long term manufacturer warranties.
Visit http://theheadsetshop.com for more information:
Contact Address -
TheHeadsetShop.com
PO Box 2077
Burlingame, CA 94011
877-656-9526