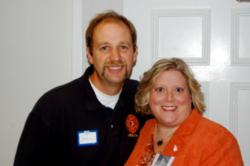 Fredericksburg, VA (PRWEB) January 15, 2013
Jenny Kobersteen, a Mary Washington Healthcare nurse, and her husband Joel will be honored at the 5th All American Inaugural Ball on Jan. 20, 2013 at the Hyatt Regency, Capitol Hill. The Ball is a tribute to American heroes - "selfless citizens" - who sacrifice on behalf of others every day.
The Kobersteens were nominated by the Muscular Dystrophy Association's Greater Washington, D.C. MDA office for their "unwavering support for MDA." Together with Fairfax County firefighters, police officers and local businesses, they help raise more than $500,000 for MDA's Fill the Boot program every year. They also are dedicated volunteers for MDA's annual summer camp.
Jenny is a registered nurse who works as a Patient Care Supervisor at Mary Washington Hospital in Fredericksburg, Va. Joel is a master technician for Fairfax County Fire & Rescue.
"Jenny spends two weeks straight caring for our kids at summer camp and ensuring we can create a safe and joyous environment for them," said Stephanie Hall, fundraising coordinator for Greater Washington MDA. "Joel brings the fire truck to camp and works the barbeque grill to ensure the kids get a great meal. They appear at every event we ask them to, keeping up with campers and families throughout the year. They are an endless support system to our families."
The two said they are "humbled" by the honor, having met some "truly remarkable people from the families that MDA serves."
"Fill the Boot is a natural extension of our jobs as firefighters and dispatchers," Joel said. "Our jobs involve going out of our way, and sometimes out of our comfort zones, to help people. As exhausting as Fill the Boot is, being able to look back and say that we were part of a campaign that donated over half of a million dollars per year to families living with neuromuscular disease is incredibly rewarding."
Added Jenny: "I am grateful to have met some outstanding children and have made some lifelong friends working with MDA. Being a part of the team of volunteers that allows for the families to have a break while their children have a magical time at camp is very gratifying."
Tickets for the gala are available at http://www.allamericaninauguralball.eventbrite.com.
USVets TV (http://www.USVets.TV), an Internet TV Channel on the TV Worldwide network, is the Official Webcaster of the All America Inaugural Ball.
About MWHC
Mary Washington Healthcare is a fully integrated, regional medical system providing inpatient and outpatient care through over 40 facilities, including Mary Washington Hospital, a 437-bed regional medical center, and Stafford Hospital, a 100-bed community hospital. Mary Washington Healthcare is a not-for-profit health system with a longstanding commitment to providing care regardless of ability to pay. For more information about our services and facilities, please visit http://www.MaryWashingtonHealthcare.com.
About MDA
MDA (mda.org) is the world leader in funding ALS research and providing ALS services. Over the years, MDA has led the fight against ALS, investing more than $307 million in its ALS research, services and information programs. In addition, MDA operates 200 clinics across the county, 42 of which are designated as ALS-specific research and care centers.
MDA established the MDA/ALS Clinical Research Network to streamline and support tests of experimental treatments, with locations at Methodist Hospital (Houston), Massachusetts General Hospital (Boston), Columbia University (New York City), Emory University (Atlanta) and California Pacific Medical Center (San Francisco).
The Association's unparalleled research, health care services, advocacy and education programs provide help and hope to more than 1 million Americans affected by ALS and the more than 40 other progressive neuromuscular diseases in MDA's program. For more information, visit mda.org and follow us on Facebook at facebook.com/MDAnational and Twitter @MDAnews.