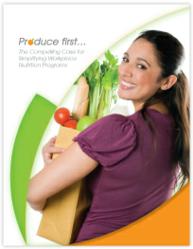 These findings validate the approach we've taken with all of our wellness campaigns — zeroing in on produce as the foundation of healthy eating.
Midland, MI (PRWEB) January 19, 2013
The study, Is Psychological Well-being Linked to the Consumption of Fruit and Vegetables? conducted by researchers in the US, UK, and Germany, included data from over 80,000 participants. Results show a significant positive effect of eating produce on several mental health measures, with 7 servings a day linked to peak mental well-being.
Employee wellness programs typically emphasize the physical health benefits of eating more fruits and vegetables — prevention and management of chronic disease, for example. Despite widespread public and private sector messages, less than 1/3 of US adults consume the recommended 5 servings a day, according to the Centers for Disease Control and Prevention (http://www.cdc.gov/nutrition/downloads/NationalActionGuide2009.pdf).
"We're delighted with these findings," remarks Dean Witherspoon, President and founder of Health Enhancement Systems, which develops popular online wellness campaigns like 5 on 5, NutriSum, and Colorful Choices. "It validates the approach we've taken with all of our wellness campaigns — zeroing in on produce as the foundation of healthy eating. Choosing colorful vegetables and fruits first makes good nutrition simple, enjoyable, filling, and fun," notes Witherspoon.
Colorful Choices challenges participants to eat at least 5 servings of produce each day (minimum of 3 vegetables) in red, orange, yellow/white, green, and blue/violet. There's no calorie counting, no fat gram tabulating, no weighing or measuring. Just easy-to-remember daily selections of colorful produce — with more than 120 to choose from. An easy-to-use tracker, delicious recipes, and daily tips help keep motivation high — and a friendly team competition makes the hard work of behavior change fun and rewarding.
National Nutrition Month, recognized every March, is a good opportunity for worksite wellness programs to have more impact by leveraging public health messages. Communicating new findings about produce consumption and mental well-being will offer employees another compelling reason to eat 5 a day — or even more.
Produce First — The Compelling Case for Simplifying Workplace Nutrition Programs, a free white paper by Health Enhancement Systems, details the advantages of helping employees and dependents eat a variety of produce every day. It also offers specific strategies, such as:

Underscoring education. Provide workers with plentiful tips (such as knowing what makes up a serving, putting produce at the top of the grocery list, and bagging it first) as well as recipes.
Making convenience count. Keep "grab-and-go" snacks like apples, baby carrots, and bananas easily accessible in cafeterias and vending areas.
Concentrating on color over calories. Encourage employees to focus on produce color, variety, and freshness instead of counting calories or weighing portions. Brighter, deeper hues look and taste better, while signifying higher concentrations of vitamins, antioxidants, and minerals.
Managing the message. Prominently posting the produce first message throughout work spaces — break rooms, cafeterias, even stairwells — inspires workers to keep making healthy food choices.
Supporting and encouraging. Social support from coworkers and team leaders creates a positive atmosphere and helps make wellness-promoting nutrition habits permanent.
"Mental health is a big cost driver for employers," explains Witherspoon. "We already know that exercise reduces depression, relieves anxiety, and improves mental well-being. This study points to another lifestyle factor that could make a real difference in both physical and mental health. Wellness managers should do whatever it takes to promote more produce as a simple way for employees to boost health and feel their best."
For more information, download Produce First — The Compelling Case for Simplifying Workplace Nutrition Programs at http://www.hesonline.com/whitepapers/produce.
Health Enhancement Systems creates employee wellness programs for organizations in North America and throughout the world. More than 20 effective, engaging HES wellness campaigns have been adopted by over a thousand organizations — serving hundreds of thousands of participants successfully.
For more information about Health Enhancement Systems, visit http://www.HealthEnhancementSystems.com or call 800.326.2317.