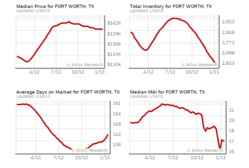 In November, prices climbed 11% throughout the North Texas area, but the Northwest Dallas real estate market saw especially large gains at 52%.
Dallas, Texas (PRWEB) January 17, 2013
There's good news for North Texas home owners. In fact, the Texas real estate market has largely managed to exceed projections, and being that it has showed little slow-down, many experts believe it is poised to thrive in 2013 as well. 2012 ended with record numbers, and inventory levels that are at all-time lows.
Realtors® around the state have reported a surge in interest on behalf of buyers. In November, sales inventory dropped to the lowest level in more than a decade thanks to a surge in North Texas home sales.
As DD Flynn, VP Marketing with Prudential Texas Properties, notes, "We expect the North Texas real estate market to continue to flourish in 2013. As more and more potential sellers realize the health of the market, we do expect inventory levels to rebound to a certain degree, giving prospective home buyers even more opportunities to find what they're looking for. "
During the first 11 months of 2012, North Texas home sales were up 17% and pre-owned home sales in the area have been on the rise for nearly 18 months. In the meantime, this does have Realtors® scrambling to find available properties for their clients, but as word gets out regarding the resurgence in the real estate sector, more sellers are expected to re-enter the game.
One thing that will certainly help is an uptick in median sales prices. In November, prices climbed 11% throughout the area, but the Northwest Dallas real estate market saw especially large gains at 52%. Experts believe that many sellers will start to list homes in the next six months to a year.
Flynn notes, "The Texas real estate market is still very much full of potential homes to purchase, but you just have to be willing to do some extra legwork in order to find that perfect property. Partnering with an expert real estate agent who knows the local market is one way to get a leg-up in the game."
Another bright spot for the local real estate market is the low unemployment rate. At 6.2%, this is the lowest unemployment rate for the state of Texas in four years. As the economy at large continues to improve, including adding more jobs in industries like trade, transportation, and utilities, leisure and hospitality, education and health services, and more, the real estate market is expected to move in tandem with it.