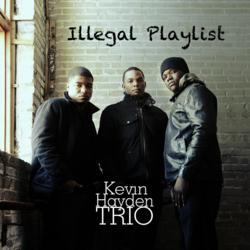 Milwaukee, WI (PRWEB) January 16, 2013
Kevin Hayden Trio will return in April with their third studio album and the follow-up to 2012's Paris, entitled Illegal Playlist. The new album will be co-produced by Chicago's nationally recognized jazz pianist, Greg Spero (Buddy Rich Big Band) who recently appeared in London with drumming legend Dave Weckl.
Lead by drummer Kevin Hayden, the trio features Terry Harris Jr. on piano and younger brother Alan Harris on bass. They come together once again to give listeners a jazz rooted, genre crossing album that boasts a special guest appearance by hip-hop artist Klassik. Klassik recently performed with the Kevin Hayden Trio in a collaborative show headlined by grammy nominated pianist, Robert Glasper of the Robert Glasper Experiment.
The album will be available in CD and digital format. Pre-orders are now ongoing through the trio's Kickstarter.