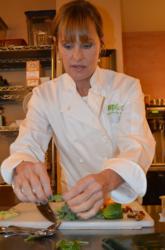 Our recipes provide the same great flavors, but transform unhealthy pub foods into healthy meals
Santa Fe, NM (PRWEB) January 17, 2013
FOR IMMEDIATE RELEASE-Jan. 17, 2013 - Santa Fe, New Mexico: BODY of Santa Fe announces a new line of recipes that offer healthy alternatives to classic pub comfort foods without sacrificing taste. Foods that are traditionally fried are baked or dehydrated to maintain texture and crunch. By eliminating unnecessary oils, creams, fats, fillers, and preservatives, BODY Café's recipes produce satisfying, healthy, real-food meals with at least 30% fewer calories than traditional pub food preparations.
Body Café's classic pub fare interpretations include:
Chicken Wings
Prep Time: 30 Minutes
Serves 4
Chicken Wing Marinade (Makes 1 quart)
2 Cups tamari
2 Tsp. garlic
3 Tbsp. peeled ginger
½ Cup maple syrup
¼ Cup apple cider vinegar
4 Thai chilies
½ Cup sesame oil
Preheat convection oven to 400 degrees. Combine all ingredients in blender and puree. Marinade wings in glaze for 12 hours and arrange wings on a greased pan—larger wings on outside of pan and smaller pieces in the center. Roast wings for 6 minutes at 400 degrees then rotate pan and roast for another 6 minutes.
Chicken Wing Glaze (Makes 1 quart)
½ Cup ginger, peeled & chopped
1 Cup ketchup
4 Thai chilies
3 Tsp. garlic
½ Cup water
¼ apple cider vinegar
½ Cup sugar
2 tomatoes, chopped
Place all ingredients in a small sauce pot and cook for 15 min on medium heat, stirring occasionally. Pour all ingredients into blender and puree for 3 minutes. Coat roasted wings.
Wing Dip (Makes 2 cups)
1 Cup agave nectar
¾ Cup lemon juice
¼ Cup olive oil
Salt & Pepper to taste
Combine agave nectar and lemon juice. Slowly whisk in olive oil. Add salt & pepper to taste and serve with wings.
Raw "Fried" Onion Rings
Prep Time: 10 Minutes
Serves 4
1 large sweet onion cut into rings
First coating:
4 Tbsp. olive oil
2 Tbsp. water
Himalayan salt to taste
Second coating:
1 Cup ground golden flax seeds
1/2 Cup ground cashews
1-2 Tsp. paprika
Himalayan salt and fresh ground pepper to taste
Dip each onion ring into the 2nd coating, then the 1st coating and again into the 2nd coating. Place coated onion rings on mesh screen and place into dehydrator for 8-14 hours at 108 degrees (or until crispy).
Raw Sweet Potato Chips
Prep Time: 10 Minutes
Serves 4
2-3 medium-sized sweet potatoes
1 Tbsp. olive oil
1Tbsp. fresh rosemary (mashed)
1/8 Tsp. Salt
1/8 Tsp. Coriander
Peel and thinly slice sweet potatoes. Place in a bowl and toss with olive oil, coriander, fresh rosemary and salt. Spread on mesh screen and place into dehydrator for 4-8 hours at 108 degrees.
"Our recipes provide the same great flavors, but transform unhealthy pub foods into healthy meals said BODY owner Lorin Parrish. "They pack in flavor and provide that satisfying crunch to fulfill the tastes you crave in a nutritious, healthful way that is as good for your body as it is for your taste buds. "
For more information please visit http://www.bodyofsantafe.com or call (505) 986-0362.
For press inquiries, contact:
Jennifer Hinsley
JLH Media
505 603 8643
Jennifer(at)jlhmedia(dot)com
###
About BODY of Santa Fe: Founded by Lorin Parrish in 2004, BODY is a yoga, Tai Chi Chih and dance studio, café, spa, fitness center and boutique as well as a childcare center and yoga teacher training facility located in downtown Santa Fe. Built on the premise of functioning as a community center that inspires and encourages wellness, BODY is known for its commitment to sustainable, organic and fair-trade products in its boutique and selections of raw and vegan food as well as wheat, dairy and sugar free meals. BODY's café includes selections of wild line-caught fish and locally grown chicken and lamb as well as organic wine, local organic beer and sake, veggie cocktails and elixirs. A new 200 hour Vinyasa teacher-training program, BODY Yoga School, began in spring of 2012. BODY was recently voted by Santa Feans as the best yoga studio, restaurant for vegetarians and place for a facial and massage. For more information, please visit http://www.bodyofsantafe.com or call 505.986.0362.