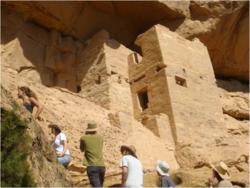 To me the silence became a living thing. It made me think of an ancient Native American, probably sitting in the same spot, marveling at the same sight that I was taking in. Casey Gardner, 10th Grade
Northridge, CA (PRWEB) January 14, 2013
Native American Studies is a core subject in the tenth grade history curriculum at Highland Hall Waldorf School. But rather than the conventional teaching method of lecture, notes and test taking, Native American history is taught experientially and across several disciplines at Highland Hall. Students there learn about Native American cultures such as the Inuit, Ute Mountain, Cheyenne and Pomo by listening to the oral "literature" of these Native American tribes. For nearly 25 years students have walked in the shoes of Native Americans by living in nature at the Ute Mountain Tribal Park, Colorado at the end of the course. They also relive their experiences in their own words through writing and art, and this year, auf Deutsch.
Noah Williams, Highland Hall's high school history teacher begins each lecture with a story translated into English from the oral traditions of the various tribes studied during the Native American intensive study, or "block" as it is referred to at Highland Hall.
"Reading the myths and legends of the Pomos and Cheyennes isn't just about introducing literature; these are stories handed down through an oral tradition. They were told and heard. So retelling them is really a lesson in listening," Williams explains." I ask the students to put down their pens, be present, and live in the words."
The block includes lectures on the various Native American tribes and their migrations, and culminates with a 15 hour trip by train and bus for a 3 1/2 day camping expedition in a remote canyon of the Ute Mountain Tribal Park. There students and their chaperones live as the Native Americans did with no running water or electricity and all personal electronics turned off. They receive daily visits from a Ute guide named Rick who has worked with Highland Hall students over the past 8 years. Students hike up to the ancient Anasazi ruins across from the Mesa Verde, do chores , and engage in various "trust" exercises.
"These help the students recreate the mood – the reverence – these ancient cultures had for the earth and for each other," explains Williams, "For the Native Americans, the individual wasn't important, it was the group - the opposite of our culture. On the trip, we take care of each other, including how we behave. I also challenge them to consider 'How do I make this a great experience for my classmates,' rather than, 'How can I have fun?'"
By camping in the canyon, students also learn survival techniques such a gathering wood, making fires, and cooking, thus engaging their creative thinking and problem solving skills. They also experience true darkness with a night sky filled with stars, and absolute silence.
"The experience that made the deepest impression on me was when we visited one of many ancient cliff-dwelling ruins," says Highland Hall tenth grader Casey Gardner. "First we hiked a steep path up the side of canyon. The weather was hot, the rocks were unstable, and we all carried weighted backpacks filled with our belongings. Finally, we reached the ruin. It sat strong and resolute on a thin ledge overlooking the abyss. After lunch, our Ute Indian guide Rick encouraged us to have a moment of silence and take in the astounding view. To me, the silence became a living thing; one could hear and indeed even feel the silence. It made me think of an ancient Native American, probably sitting in the same spot, marveling at the same sight that I was taking in. We usually associate silence with aloneness, but being with my class, people I've known for most of my life, made the quiet a shared experience."
For Williams, this kind of experiential learning is important for reconnecting students with nature and with their own ancestral roots.
"We're fortunate that the first people to occupy this continent are still around," he says. At one time all of our ancestors lived close to the way Native Americans lived...in direct relationship to nature and honoring nature. It's good for us to experience where we came from."
The block culminates with the students writing their experiences and everything they have learned in a "Main Lesson" book. Each book is required to have a cover. It is left to the student how he or she will infuse art into the cover. The only requisites are that they use materials from nature and incorporate color.
"Why art in a history class?" asks Williams. "Art was simply part of the Native American culture. They expressed it in their clothing, for example. So, the students replicate that experience and in so doing, find yet a different form of embodying, expressing and owning what they have experienced."
In the multidisciplinary Waldorf teaching method, the Native American studies in English also found expression in foreign language classes. After returning from their trip to Colorado, the tenth graders in Kira Fuchs' German class had an assignment to interview one another in German about the experience. Then they combined information from their own experiences with quotes from classmates into a "newspaper article" about the trip. They wrote in a journalistic style and completed their project with an illustration, headline and even additional newspaper content.
"Taking the history experience from English to German has a two-fold benefit," explains Fuchs. "You deepen the experience by reliving it in another language. And, it's exciting and rewarding to communicate the experience the students enjoyed together in a foreign language. When you add to that the creative aspect of designing and illustrating a newspaper, it becomes even more personal to the student."
"The experiential and cross disciplinary nature of the curriculum at Highland Hall invites students to be actively immersed in their studies, not just passive receivers of facts," adds Linda Keefer, parent at Highland Hall. "They develop a deeper connection to the material. I am sure my daughter will carry these experiences with her well into the future."
Highland Hall Waldorf School, located in Northridge, CA and founded in 1955, exemplifies the rich educational traditions of the Waldorf School movement. Its unique approach to learning successfully addresses the changing needs and capacities of children at each stage of development from PreK through High School. Fully 98% of its high school graduates move on to renowned colleges and universities. 42% of Waldorf graduates pursue college majors in mathematics or science. Featuring a curriculum of academically challenging lessons infused with arts and hands-on learning, Highland Hall provides students with a solid academic foundation, the ability to think creatively, a sympathetic interest in the world, self-confidence, and an abiding moral purpose.