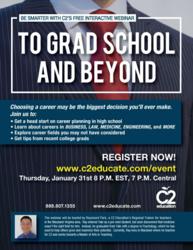 Participants really get a lot of customized information out of these events.
Atlanta, GA (PRWEB) January 17, 2013
C2 Education, the nation's fastest growing network of education support centers, is hosting a new live webinar as part of an ongoing informational series. The newest college admissions webinar will be held on Thursday, January 31, 2013 at 8 PM Eastern time.
Past C2 webinars have met with great success. "Our audience engagement has been amazing," says C2 Education co-founder Jim Narangajavana, a past webinar presenter. "What's really unique about these webinars is the audience involvement. Participants answer polls and engage with the speaker in a way that you don't see with traditional seminars. We also have a behind-the-scenes panel of experts, so audience members can ask about whatever education issue is on their minds. Participants really get a lot of customized information out of these events."
January's webinar, titled "To Grad School and Beyond!", will focus on the myriad of career choices available to today's students. Although many high school students are exclusively focused on choosing a college, choosing a career is an even bigger decision. Those students who get a head start on career planning will be better prepared to navigate the road to professionalism.
Join us for "To Grad School and Beyond!" to:

Get a head start on career planning in high school
Learn about careers in business, medicine, law, engineering, and more
Explore career fields you may not have considered
Get tips from recent college graduates who know what it takes to excel in today's professional world
The webinar will be hosted by C2 Education Regional Trainer Raymond Park, a Yale graduate currently studying for his Master of Arts in Teaching. Ray will introduce several young professionals and graduate school students who will share their experiences in their individual fields. Ray will also help students to better understand the options available to them and the steps they can take as high school students to begin the road to their future careers.
This event is free, but registration is required. All participants will receive a coupon for a free C2 Education academic assessment and consultation (a $120 value). Academic assessments provide valuable information about students' strengths and weaknesses, allowing parents, teachers, and tutors to help students maximize their potential. To register for the live webinar and to qualify for a free academic assessment and consultation, please visit C2 Education's event page.
ABOUT C2 EDUCATION
C2 Education was founded as an in-home tutoring service run out of a Harvard dorm room in 1997. From those humble beginnings, C2 has grown to include more than 120 tutoring centers across the country serving thousands of students each week. C2 students enjoy fully customized programs, one-on-one interaction with highly qualified teachers, and the support needed to succeed throughout their educational careers. C2's results speak for themselves: C2 students increase their SAT scores by an average of 350 points, 100% of C2 students pass state standardized tests, and 85% of C2 students go on to attend a top 50 college or university. For more information about C2 Education, please visit http://www.c2educate.com or call (800) 777 - 7000.