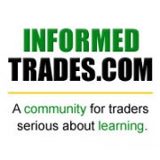 I was in it for the money at first. But it's not just for myself now.
Chicago, IL (PRWEB) January 17, 2013
InformedTrades, a financial media organization whose mission statement is to help individuals learn to trade the world's financial markets, recently added to its list of interviews with prolific traders by interviewing Tim Sykes, a former hedge fund trader and current penny stock trader known for becoming a self-made millionaire shortly after graduating from high school by short selling overpriced penny stocks.
In this exclusive 21 minute interview, Sykes shares some of his secrets for finding great trade setups, such as:
+ Monitoring trading volume of small stocks
+ Tracking emails from penny stock promoters -- i.e. what they are currently promoting and what they have discontinued promoting
+ Spotting parabolic moves in price
Sykes acknowledges his method is not purely formulaic, and involves some intuition as well. "You never know exactly," Sykes says. "But you can learn to spot the signs."
These days, Sykes is most passionate about helping others spot the signs so that they can achieve the same financial freedom he did. Starting with $12,000 in bar mitzvah money, Sykes began trading in 1998. He made $100,000 his senior year in high school, and another $800,000 his freshman year of college. Now a millionaire many times over, his focus has shifted to teaching and training. "I was into it for the money at first," he says. "But it's not just for myself now." Sykes is most passionate about teaching others how not to be scammed by the same penny stock pump-and-dumps that he's navigated for 15 years.
Accordingly, the interview between InformedTrades founder Simit Patel and Tim Sykes goes on to discuss how traders can avoid getting caught up in a penny market scam, and how maintaining the proper psychology -- one of a disciplined and professional investor rather than a reckless gambler -- is vital to success and to avoiding dangerous losses.
To check out the entire interview and discuss it with other traders, visit InformedTrades. The InformedTrades community plans to continue interviewing top trading professionals like Barry Burns, Mike Reed, Kathy Lien, and many more as part of their mission of helping traders learn.