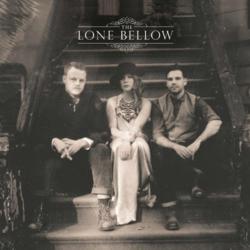 "Passionate and self-assured" - USA Today
New York, NY (PRWEB) January 15, 2013
Hailing from Brooklyn via south of the Mason-Dixon, THE LONE BELLOW has signed to Descendant Records, a division of Sony Music Entertainment. Their self-titled album will be released at iTunes and independent retailers on January 15th with a wide release on January 22nd. Additionally, "Bleeding Out" will be iTunes "Single of the Week" the week of the 15th. The Lone Bellow has received some impressive early attention - most notably a January 22nd appearance on Conan, NPR's "First Listen;" and heavy rotation on renowned taste-maker station WFUV. Billboard calls the band "one of The Next Big Things for 2013," with NPR's Bob Boilen saying, "The world of acoustic music is about to get a new household name. The music of The Lone Bellow is born from tragedy and told with heart and simplicity."
Featuring lead singer and principal songwriter Zach Williams; singer and mandolin player Kanene Pipkin, and guitarist Brian Elmquist, The Lone Bellow have made a name for themselves with their acclaimed live shows in New York and across the country during their stint opening for The Civil Wars. At the heartof it, Zach Williams is an intentional songwriter focused on growing a community, rather than merely finding a following. The Lone Bellow isn't just a group of musicians; they are an "urban tribe," a family away from family.
Georgia-born Williams began songwriting in 2005, during a prolonged stay at Atlanta's Shepherd Center after his wife was thrown from a horse and paralyzed from the neck down. With a dire diagnosis of quadriplegia, there was nothing to do but sit vigil with his group of friends - also artists. While they waited for healing, Zach picked up a guitar and taught himself to play. His wife eventually recovered (her spinal cord, initially thought broken, was terribly bruised) and the couple and their group of friends moved to Brooklyn shortly thereafter.
Williams and the band's music evolved to reflect his Southern roots, incorporating elements of rock, gospel, country and blues that result in a unique and soul-searing blend of can't-get-them-out-of-your-head lyrics that spring from a deep emotional reservoir. The upcoming record is a complete work, a "collection of stories embodying tragedy, hope, betrayal and redemption." The first track "Your Never Need Nobody" is out now. Tour dates below with more to be announced soon:
Jan 21 - Los Angeles, CA at Hotel Café
Jan 24 - Montclair, NJ at Wellmont Theater w/Dwight Yoakam
Jan 25 - Mashantucket, CT at Foxwoods Resort & Casino at MGM Grand w/Dwight Yoakam
Jan 28 - New York, NY in-store performance at Barnes & Noble in Union Square
Feb 5 - New York, NY at Bowery Ballroom (Album Release Show)
Find The Lone Bellow on iTunes and at your local independent retailer.