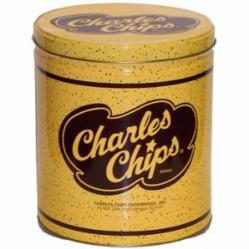 Candy Galaxy has proven that there's huge potential in the online market, and we're thrilled to be part of it
Nashville, TN (PRWEB) January 15, 2013
Charles Chips is proud to announce the re-launch of their popular brand nationwide. Dedicated to reigniting a passion held by fans everywhere, Charles Chips chose Nashville as the starting point to revive their brand where they've teamed up with Candy Galaxy to distribute their product line.
Indeed, the heritage of Charles Chips is as rich as the flavor itself. For thirty years, a deliveryman would bring the legendary gold and brown tins filled with chips to your door. Countless households across the nation understood the sight of the tins: Charles Chips had arrived. However, as society continued to evolve and the relevance of the deliveryman diminished, Charles Chips and its distribution structure struggled to hold its prominence as younger competitors entered the market.
By choosing Candy Galaxy as its first authorized distributor in its re-launch, Charles Chips is demonstrating its ability to adapt in today's market. While providing the same traditional recipes, Charles Chips is on the front-edge of company-to-consumer relationships by partnering with Candy Galaxy. Instead of using the outdated deliveryman or focusing strictly on grocery store shelves, Charles Chips, through their partnership with Candy Galaxy, will gear themselves towards online sales and marketing as part of its comeback.
"We're excited to be the first authorized distributor of Charles Chips," says James Murrell, the president of Candy Galaxy. As one of the quickest-growing online candy and snack stores in the nation, Candy Galaxy stands in a perfect position to distribute Charles Chips nationwide. "More and more consumers are purchasing from the Internet," says an insider. "Candy Galaxy has proven that there's huge potential in the online market, and we're thrilled to be part of it."
As Charles Chips and Candy Galaxy begin their journey together, fans of the classic snack are thrilled to hear about its return. Consumers can step back in time with the nostalgic gold and brown tin filled with chips. However, the flavor doesn't stop with Classic. Accompanying Classic, Barbeque, Sour Cream, and Dill are three fantastic new flavors for fans old and new alike to explore. In addition to these three exciting flavors, expect to see Charles Chips in waffle, no-salt, mini-twist pretzels, "Chip of the Month" flavor, and much more. As Charles Chips celebrates its 70th anniversary and re-launch, they look forward to bringing more joy to consumers with their famous tins!