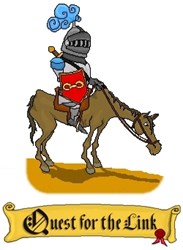 Today in 2013, the focus should be on earning meritorious and relevant links.....these are the type that drive targeted leads and traffic and that search engines are keen to reward
Tenby, Pembrokeshire (PRWEB) January 16, 2013
Questforthelink.co.uk, a specialist content marketing and natural link building service, have just announced a fresh approach to search engine optimization education for businesses and webmasters, through a medieval theme based Infographic series.
The Infographics will be delivered in chapters, and have been specifically designed to highlight the potential dangers and pitfalls a new website owner may face when implementing a variety of SEO and content marketing campaigns.
This series of Infographic chapters will not only educate and inform readers, but also explain the subject matter in an appealing and entertaining format. The first chapter is entitled Journey to the Tower of Inbound Strategies.
In keeping with the medieval theme, QuestForTheLink intend to release further chapters entitled "Confronting the Dragon of Duplicate Content", "Avoiding the Archer of Anchor Text Repetition" and "Vanquishing the Ogre of Over Optimization" amongst others.
"Content marketing and natural link building are a crucial component of any webmaster's inbound strategy," says Sir Linksworthy from Quest for the Link.
"Today in 2013, the focus should be on earning meritorious and relevant links - as these are the type that drive targeted leads and traffic and that search engines are keen to reward. However the effectiveness of quality inbound links will be diluted if your Website is over-optimized," Sir Linksworthy continues.
"Alas, webmasters often need to confront the Dragon of Duplicate Content, avoid the Archer of Anchor Text Repetition, vanquish the Ogre of Over Optimisation and overcome the Giant of Meta Tag Stuffing before embarking on any digital marketing campaigns. These virtual adversaries are highlighted in our first Infographic."
Having a website at the top of search engine results pages is crucial for any online business and can often mean the difference between a successful and a failing e-commerce site.
With almost 2 billion people globally using the internet to search for products, services and businesses, new start-ups and small businesses sometimes rely heavily on effective and comprehensive digital marketing campaigns which can often prove costly. The QuestForTheLink Infographic series looks to help avoid and mitigate the potential pitfalls caused by a lack of current SEO understanding.
About the Company
QuestForTheLink was established in 1215 in the village of Linkton by Sir Linksworthy, a content marketing specialist, who provides advice and guidance on inbound strategies for projects of all sizes. For more information contact Questforthelink.co.uk.