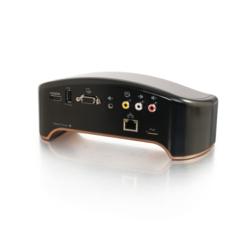 C2G's connectivity solutions for corporate environments from data centres to conference rooms will seamlessly connect projectors, sound systems, and interactive whiteboards.
Amsterdam, NL (PRWEB) January 15, 2013
C2G (http://www.c2g.com), the preferred provider and trusted expert for A/V and IT high performance cabling and connectivity solutions, supports the needs of today's business and education settings with a wide array of solutions. From the simple to the sophisticated, C2G's connectivity solutions for corporate environments from data centres to conference rooms will seamlessly connect projectors, sound systems, and interactive whiteboards allowing users to present information to customers and employees. To meet the demands of the education market, C2G provides connectivity solutions for instructors to deliver the optimum technology-based learning experience for students. C2G will showcase these innovatively simple solutions that maximise performance at ISE 2013.
C2G will be presenting its RapidRun line of products—the most complete modular cabling system built to save installation time, accommodate changes, and evolve with customers' constantly expanding needs. Trusted by integrators, installers and end-users, RapidRun's reputation for quick and effortless in-wall A/V connectivity is unmatched.
Also featured at ISE 2013 will be the TruLink Media Gateway—a versatile, A/V signal auto-switch that enables users to easily connect a wide array of electronic devices. It provides hassle-free connectivity for laptops, iPod®/iPad®/iPhone® devices, digital/video cameras, Blu-ray™ or DVD players, and game consoles to HDTVs or projectors. The automatic switching capability provides ease of use while the USB port adds a convenient way to charge portable electronics. Additionally, the TruLink Media Gateway simplifies connectivity in an environment where multiple users are sharing content such as presentations, video, audio, and other documents. The flexibility of this active connectivity panel makes it the perfect solution for multiple applications in corporate, education, and healthcare environments.
The "Analogue Sunset/Digital Sunrise"—the A/V industry's current initiative of eliminating analogue signals from devices, is expected to continue over the next few years. With the eminent shift from analogue to digital, it is important to have a solution which can support the analogue to digital migration path with the ability to convert the signal automatically. The TruLink Media Gateway is a single interface, making it ideal for environments where analogue equipment will eventually be upgraded to digital.
To assist audio-visual and networking resellers and installers, ConnectXpress from C2G is a guided, self-service platform that enables resellers to select the required cable they need from the extensive portfolio of products available from C2G. After choosing the desired connector types, colour and length of cable, ConnectXpress presents only the products that fit the requirements. Further advice and guidance can be provided online by C2G experts through the Live Chat feature accessible on the ConnectXpress webpage.
Finally, C2G will highlight its portfolio of digital signage solutions that seamlessly support analogue and digital distribution options with our TruLink® products; the A/V over Cat5 line which includes analogue (VGA) and digital (HDMI®) over Cat5, and the High Speed HDMI over Active Optical Cable (AOC). This extensive offering makes it easy to select the correct signal extension solution for the proper application.
ISE 2013 attendees can see these solutions and more from C2G at the RAI Convention Centre in Booth 4-S82. Make an appointment to meet with C2G experts and view their range of solutions by contacting the office directly at +44 (0)800 328 2916.
Telford-based C2G launched its UK operations in May 2009 at Channel Expo. Working with value-added distribution partners, Computer 2000, TDMaverick, Tech Data Europe, and Enta Technologies, C2G has quickly established a strong and extensive community of networking and A/V specialist partners in the UK and Europe.
About C2G
C2G is a division of Lastar Ltd., a leader in computer, datacom, and A/V connectivity solutions since 1984. The company delivers connectivity products renowned for quality, value, and innovation. C2G uses premium components and the latest technologies to maximise cable performance and ensure compliance with industry specifications for each product and its designated application. For more information regarding C2G, visit http://www.c2g.com.
# # #
C2G is a registered trademark of Lastar, Inc. All other trademarks are the property of their respective owners.
Media Contact:
Mary Ann Kabel
Marketing Communications Manager (EMEA)
001 937.528.4814
mkabel(at)lastar(dot)com
http://www.c2g.com