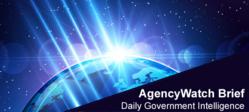 Most government agencies are still relying on 1990's technology to get the information they must have each and every day.
Tarrytown, NY (PRWEB) January 15, 2013
InfoDesk has announced the launch of AgencyWatch, a new once-daily government intelligence, news and media monitoring service designed specifically to meet the changing information needs and demands of government leaders. Download a complimentary 7-page AgencyWatch Sample Briefing.
"Most government agencies are still relying on 1990's technology to get the information they must have each and every day," said Sterling Stites, CEO of InfoDesk. "With AgencyWatch they not only get comprehensive, professionally-gathered and edited daily news briefings each morning," said Stites, "they also get interactive features that measurably increase the value of the intelligence by allowing users 'to highlight, rate and share' relevant content with one another from any device."
InfoDesk has been providing news and competitive intelligence services to corporate and government clients for more than a decade and is widely recognized for its unique "content neutral" information services, which allow organizations to integrate, filter and share the widest array of content quickly and easily.
Last year InfoDesk launched InfoMonitor, a custom daily news and media monitoring services designed to meet the most exacting needs of corporate clients, particularly those in the competitive pharmaceutical sector.
"Our corporate clients came to us to develop fully customer-branded internal news briefings with all the bells and whistles they would expect from any major news outlet," said Stites. "These clients came to us because they wanted it all—professionally edited summaries of all the relevant news from all the important sources, including subscription content, delivered and formatted for maximum usability and professionalism."
Like InfoMonitor, AgencyWatch relies on InfoDesk's editorial team and "content neutral" platform to ingest and filter the broadest array of content sources, select and summarize all major developments, and provide copyright-compliant links to original articles.
"InfoDesk simply blew away the competitors," said one pharmaceutical client when asked why InfoMonitor had won their recent RFP. The client added that the quality of InfoMonitor was much higher than purely technology-based news aggregation services, plus it offered more content choices and attractive, customizable templates that included interactive article rating features and sharing options. "InfoMonitor was hands-down a better service than the rest," he said.
Like InfoMonitor, AgencyWatch helps top decision makers stay ahead of the curve by giving them the latest and most relevant news and information they need to do their jobs.
InfoDesk's dedicated AgencyWatch team is comprised of seasoned MLS-credentialed information professionals and other researchers, who have the skills and experience to monitor a wide array of specialized content sources, sift through countless news reports to identify, select and summarize the most relevant information every work day by a client-selected time. Also, AgencyWatch updates are available in a variety of formats, making client access simple and easy via email, information portal and RSS delivery.
To introduce AgencyWatch, InfoDesk will be offering 30-minute, web-based AgencyWatch power demos for groups and individuals and complimentary 7-page AgencyWatch Sample Briefings upon request.
About InfoDesk
InfoDesk (http://www.infodesk.com) specializes in information management solutions that help organizations integrate, deliver and share content resources more quickly, cost effectively and securely. For more than twelve years InfoDesk has helped some of the largest multinational corporations, top government agencies and media companies integrate, deliver and share large volumes of information more effectively. InfoDesk is based in Tarrytown, NY with offices in London and Washington DC.