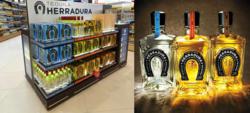 new York, NY (PRWEB) January 16, 2013
Open d USA, LLC, an international design agency is pleased to announce that it has just finished the installation of new back wall and gondola at the airport in Mexico City. The Mexican tequila brand needed a new gondola to replace an old one at a duty-free store in Cancun airport.
Cancun airport is a global entryway for many visitors to Mexico's beautiful beaches, world-class hotels, and signature golf-courses. This gave Open d USA a daunting challenge because we had to make sure that we remained close to the brand values which are based on the brands beginnings in an hacienda dating back to 1870's, but create something new, inviting, exciting for the type of modern and savvy world traveler that comes through Cancun. The old back wall and gondola did not have any product segmentation; it was made of light wood color and had no details that mentioned the brands image or any of the products names. These fixtures needed a serious overhaul and Open d USA came to the rescue.
About Open d Group
Open d Group opened in 2002 in Paris, France and has expanded to become an international design agency with locations in Dubai, Singapore, Hong Kong, Geneva, Beirut, Shanghai and New York. The group has 5 different agencies within that specialize in different areas: MAD Agency- Product & Packaging for the Perfume and Cosmetics industry, Sparkle Agency- Product & Packaging for the Wines and Spirit Industries, Open d Agency- for visual merchandising in all industries, Well Done- for Sourcing & Manufacturing and Retail Access- Interior and Retail.
The organization provides solutions for the many design needs of a brand.
Open d USA and Herradura
Using our in-house Well Done agency we sourced the quality producing manufacturers locally and managed the entire process of installation in Mexico, making us a one-stop shop for the brand's sales and marketing team. The signature – Dream up, Design and Deliver plus a little bit of Open d's secret sauce was given to this project.
To learn more about Open d Group in the US, please contact:
Marleny Almonte
636 Broadway, Suite 602
New York, NY 10012
Office: 646-454-9964
Email: malmonte@opend.us