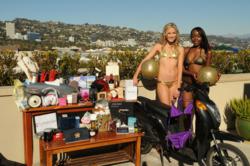 Los Angeles, CA (PRWEB) January 15, 2013
GBK, the luxury lifestyle gift lounge and special events company, honored the 2013 Golden Globe Award Nominees and Presenters at the annual GBK Gift Lounge, hosted at the L'Ermitage Beverly Hills on January 11th and 12th. Celebrity guests enjoyed gifts, refreshments and music by DJ eTunes. Utilizing these luxury gift lounges to benefit charities has always been a trademark of GBK, and this event was no different. This year's lounge benefited City of Hope and Lambda Legal, as well as victims of Hurricane Sandy. Celebrities such as Thandie Newton graciously donated their complimentary eco-friendly and stylish electric bike from Jetson E-Bike to the victims of Hurricane Sandy whose vehicles were destroyed in the storm.
One of the many celebrity-favorite products at the event included the luxury selection of eyewear from Presenting Sponsor, Essilor of America, Inc., who gifted their luxury sunwear with premium polarized and Crizal UV. Celebrities also really loved the H2V Skin Care Regime from Burke Williams Day Spa and imPRESS by Broadway Nails, who gifted their imPRESS Press-On Manicure by Broadway Nails – the revolutionary way to apply polish. Kate Flannery, who was already familiar with the product, was overheard raving about impress, saying "Great product! I love no glue!"
Other great gifts and celebrity must-haves at the event included: handmade reindeer leather jewelry from the Arctic Circle in Sweden from SwedArt; handcrafted gifts from The Artisan Group; custom-made luxury swimsuits from BeachCandy Swimwear by BritB which were modeled by the lovely Claire Donald and Diana E; limited edition sneakers from Mr. and Mrs. 8; gifts from Uniquely Designed Jewelry; luxury timepieces from Égard; custom-made and ready to wear collections for dogs by Couture by Sophie; luxury silk-filled bedding for dogs from Smartsilk; the RevitaLash family of conditioning and color cosmetics; Ajinomoto North America, Inc. – providing Glysom®, a scientifically-proven dietary supplement for deeper, sounder and more satisfying sleep; 100% Vegan Feminine wipes from Pink Wipes; signature tweezers and grooming products from Tweezerman; Bee Venom Mask products from Organic Skincare U.S.; Sexual by Michel Germain – a luxury fragrance line; José Eber Hair gifting the revolutionary José Eber Infrared Blow Dryer; and RON DONOVAN, a New York based builder of Italian-made luxury footwear and accessories, gifted certificates for a pair of footwear and/or a gift certificate towards their first purchase.
Other unique gifts and trendy finds included: European toy brands and baby products from Beanpatch & Co.; officially-licensed 007 R/C vehicles from the James Bond films by Toy State; Freedom Quit Smoking System; and trips to Miami and Turks & Caicos by Caribbean Living Magazine.
Refreshments and gourmet gifts were provided by Newman's Own Wines, Prima Dolce Company – Bella's Berries Compotes, maker of fine whole fruit compotes, sweet treats and confections; Sabra Dipping Company, providing a variety of flavors of Sabra Hummus, as well as Guacamole, Salsa and Veggie Dips; Vita Organic Foods – raw, organic chocolate bars and performance style Warrior Bars; The Real Juice, providing a raw, holistic, cold-pressed juice cleanse; Raw Crunch Bar – raw, organic, handmade, uncooked, unprocessed energy bars; Big Bertha's Black Market Biscotti - home made biscotti by Big Bertha with all organic ingredients - no butter, very little sugar, delectable!; and gift certificates for a custom 8 inch cake as well as delicious treats from Bread Basket Cake Company.
Blending gift-giving and awareness, YES! Beat Liver Tumors, a non-profit organization dedicated to providing information, resources, support and HOPE to those who are affected by cancer of the liver, was featured at the lounge gifting silver key chains, Brighton brand "heart and hope" purse charms, and invaluable information on the services, programs, and HOPE that YES! Beat Liver Tumors offers to those who are suffering from advanced cancer.
For more information on the event's charitable organizations:
Lambda Legal – Lambda Legal has been making the case for equality on behalf of lesbians, gay men, bisexuals, transgender people and those with HIV across the nation for 40 years. Our impact strategy combines groundbreaking work in the courts with innovative education and policy advocacy to change the hearts and minds of the public — and to teach people how to make sure that LGBT civil rights are respected. Through our offices in New York, Atlanta, Chicago, Dallas and Los Angeles, we average over 60 cases at any given time, tackling a range of issues including marriage, relationships and parenting; employment; HIV; health care; transgender rights; youth issues; and the battle for fair courts. Lambda Legal's mission is to achieve full recognition of the civil rights of lesbians, gay men, bisexuals, transgender people and those with HIV through impact litigation, education and public policy advocacy and our work is an integral part of the continuing struggle for civil rights in America. For more information, please visit http://www.lambdalegal.org
City of Hope – City of Hope is transforming the future of health. Every day they turn science into practical benefit and hope into reality. City of Hope accomplishes this through exquisite care, innovative research and vital education focused on eliminating cancer and diabetes. For more information, please visit http://www.cityofhope.org/citizen
# # #
ABOUT GBK:
GBK, formerly GBK Productions, is a luxury lifestyle gifting and special events company, specializing in entertainment marketing integration. Formed in 2000 by Gavin Keilly, the company's Founder and CEO, GBK consists of five divisions: GBK Celebrity Gifting, GBK Special Events, GBK Weddings, GBK Charitable Consulting and GBK Marketing/Public Relations. Widely known in the entertainment industry for bringing that little extra something into the Gifting Lounge environment, GBK offers its clients a full range of marketing services. For more information on Gavin B. Keilly (CEO), Carla Domen (VP) or GBK, please go to gbkproductions.com.