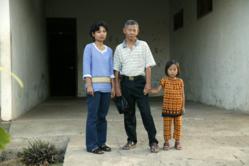 Every month, hundreds of children and teenagers are trafficked into Indonesia's sex trade. Many come from uneducated families and an unfortunate number are sold by personal acquaintances and immediate family members.
(PRWEB) January 16, 2013
"Standing on the Edge of a Thorn," a short film about the family and community origins of prostitution and sex trafficking in rural Indonesia, was nominated for a distinguished Impact Media Award (http://www.impactmediasummit.com) in the new category, Best Documentary-Style Reality Production.
It's the second nomination in less than five years for filmmaker and anthropologist Dr. Robert Lemelson and his Los Angeles-based ethnographic film company, Elemental Productions http://www.elementalproductions.org
The Impact Media Awards will be presented at the Impact Media Summit in New York, January 24, 2013.
The Impact Media Awards recognize the best in history, current affairs, archives and social issue programming across TV and digital platforms. The Best Documentary-Style Reality Production category honors a program or series that follows people within special living environments and promotes social change in their subjects and/or audiences. Elemental's first nomination was for "40 Years of Silence: An Indonesian Tragedy" in 2011.
Shot over 12 years, "Standing on the Edge of a Thorn" is an intimate portrait of a family in rural Indonesia grappling with poverty, mental illness and participation in the sex trade. It shines a light on the conflicts and realities that could propel women to choose to sell their own bodies (and the bodies of their children) for monetary gain.
"Standing on the Edge of a Thorn" looks at a former civil servant afflicted with a mental disorder who takes in an unwed pregnant teenager 30 years his junior. Trapped by traditional values that stigmatize their relationship, the couple sinks into destitution and makes choices that lead to a life of prostitution and violence. The film is narrated by their daughter, who struggles to understand her parent's predicaments and struggles against also being drawn into the sex trade.
Elemental Productions is a Los Angeles-based ethnographic film company focusing on personal experience, culture and health in Indonesia and the United States. It was founded in 2007 by Dr. Robert Lemelson, an adjunct professor in the University of California, Los Angeles's (UCLA) Department of Anthropology and research anthropologist at UCLA's Semel Institute of Neuroscience and Human Behavior in its Center for Culture and Health. Additional credits include the six-part series: "Afflictions: Culture & Mental Illness in Indonesia" and "Forty Years of Silence: An Indonesian Tragedy."