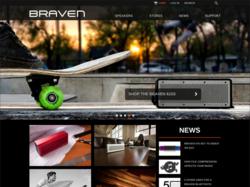 EYEMAGINE's creative team made invaluable contributions to the design process, providing expert perspective on user experience and overall cohesiveness of the site
Irvine, CA (PRWEB) January 15, 2013
EYEMAGINE, a premiere eCommerce agency, has announced the new website design for BRAVEN, http://www.braven.com. A specialty merchant for wireless bluetooth speakers, BRAVEN partnered with EYEMAGINE for a complete overhaul in the website's design to unveil in time for the 2013 Consumer Electronics Show (CES).
In conjunction with upgrading BRAVEN's eCommerce platform from Magento Community Edition to Magento Enterprise Edition, EYEMAGINE's new design incorporates pre-existing homepage features, such as image sliders, product reviews, and blog headlines into a new lifestyle image-focused user interface. EYEMAGINE ensured overall navigation in the site was supported by clickable images highlighting BRAVEN speakers' versatility and portability to consumers. This approach is most noticeable with the development of an automatic slider that houses a slide for each BRAVEN product with a clear path to product pages and purchasing options.
EYEMAGINE also brought a consistent design for all product pages by cleaning up the product image sliders, incorporating a video entry in the product sliders and reducing text in favor of more negative space. Product details were shifted to complement product images, and the site provides users a visually focused presentation to every component of a BRAVEN speaker and its accessories. Customers can also navigate through product pages with an overhead bar that automatically scrolls to each section of the page.
"We are proud to bring BRAVEN a vibrant and visually impactful design that does justice to their aesthetically and functionally superb speaker systems," says Andy Etemadi, Founder and CTO of EYEMAGINE. "The new design delivers the punch that epitomizes BRAVEN's dedication to the highest standards of form and function."
"EYEMAGINE's creative team made invaluable contributions to the design process, providing expert perspective on user experience and overall cohesiveness of the site," says Ashley Reyes-Cairo, BRAVEN's Online Store Manager. "Their attention to detail and responsiveness to our ideas exceeded our expectations during each phase of the project, producing an online presence that is beautiful, interactive, and true to our brand."
About BRAVEN:
BRAVEN is one of the world's leading speaker manufacturers. Exclusively specializing in wireless Bluetooth speakers, BRAVEN speakers' triple combination of lightweight portability, connectivity to any Bluetooth device, and ability to charge mobile phones has proved a hit with consumers. Already a multi-million dollar seller, BRAVEN speakers continue to change the way listeners experience their music.
About EYEMAGINE:
EYEMAGINE is an eCommerce innovator and a Magento Gold Solution Partner. The agency's designers and developers are experts in their respective fields with extensive backgrounds working with some of the largest brands in the world. EYEMAGINE has helped design and deliver eCommerce websites, mobile applications and websites, and software applications for respected companies as diverse as Disney, Hewlett Packard, Toyota, and Metallica.