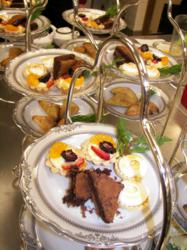 Thornton, CO (PRWEB) January 16, 2013
A popular event venue for weddings and all types of private parties, Stonebrook Manor, will begin offering brunch on January 13, 2013. This most recent offering follows the popularity of its afternoon teas on Saturdays and Sundays. The brunch menu will include a variety of traditional brunch favorites, including mimosas and other light cocktails, along with special seasonal dishes and inspired touches by their in-house chef.
Stonebrook Manor has been a popular wedding and private party venue in Thornton for 10 years, hosting events for people across the Denver metro area. The site includes a 24,000 square-foot manor and extensive gardens that include natural rock formations, waterfalls, bridges, arbors, and gazebos.
"We noticed that the North Denver area didn't have many options for brunch," said Chuck Haag, Operations at Stonebrook. "This meant that people in Boulder, Thornton, Westminster and Broomfield had to travel too far to enjoy the special experience of a family brunch." Haag added, "Brunch is a meal that deserves a touch of elegance. Our facility has been designed with elegance and beauty in every touch. We think everyone will enjoy the experience of delicious food served delightfully in our Grand Ballroom."
For brunch, afternoon tea, or other private party reservations, please visit Stonebrook Manor's website.
For more information, please call 303-255-0063.
About Stonebrook Manor
Stonebrook Manor Event Center and Gardens is an award-winning wedding venue located in Thornton, Colorado. It is a family owned and operated business, founded on the basic principle of striving to offer a better setting, food, and services at a lower price than offered by other event and wedding venues in the area.