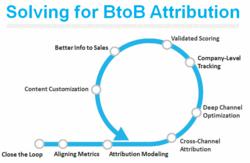 "We are seeing accurate attribution as a common challenge among our B2B clients", said Rich Roberts, SVP of BusinessOnline, "Forrester's findings confirm that solving for this challenge is a key priority for B2B companies in 2013."
San Diego, CA (PRWEB) January 14, 2013
Attendees to the free seminar will hear from Tina Moffett, Forrester Research Analyst for Customer Intelligence, and learn from BusinessOnline, BtoB Magazine's Digital Agency of the Year, how BtoB companies are actively solving the challenges around marketing attribution. This exclusive event will be held at the Adobe Customer Experience Center in San Jose, CA on Thursday, January 17, 2013 from 2:00 p.m. to 6:00 p.m. PST.
Ms. Moffett will share industry trends and key challenges facing BtoB companies when planning for and solving cross-channel attribution. And Rob Cataford, BusinessOnline VP of Customer Intelligence, will share a case study and demo leveraging the Adobe® Insight multi-source analysis tool. Adobe Insight helps organizations analyze very large volumes of data and use that information to make well-informed strategic business decisions.
In the case study presentation, BusinessOnline will demonstrate how BtoB lead-generation marketers are solving the specific challenges of: Multi-channel Measurement and Optimization; Providing Better Information to Sales; and Tying Marketing Activity to Revenue. "We are seeing accurate attribution as a common challenge among our B2B clients", said Rich Roberts, SVP of BusinessOnline, "Forrester's findings confirm that solving for this challenge is a key priority for B2B companies in 2013."
This event is uniquely suited for lead-generation marketing executives at BtoB companies who face complex and long sales cycles with multiple decision makers and across multiple channels. Attendees will enjoy a face-to-face event followed by a cocktail reception where professionals can engage with the analyst, BusinessOnline experts and industry peers, exploring common challenges and best practices.
More information about the Solving for BtoB attribution event can be found at [http://marketing.businessol.com/invite-B2B-Attribution.html.
About BusinessOnline
BusinessOnline is a performance-driven digital marketing agency and our data-driven approach sets us apart. We glean valuable insights from large sets of multi-source data and then we use these insights to drive more qualified traffic, convert that traffic to leads, shorten the Sales cycle and increase revenue.
We tie Marketing activities to revenue and this enables us to maximize ROI by conducting deep optimization and focusing budget on what's working across all digital activities: SEO, Paid Search, Conversion Rate Optimization (CRO), Display, Social Media, Email, UX, Marketing Automation, and more. Ultimately, we deeply understand customers. This allows us to align clients' marketing programs with their customers' needs thereby creating the best opportunity for our clients to be found and engaged. BusinessOnline is headquartered in San Diego and was awarded "Interactive Agency of the Year" from BtoB Magazine. To learn more, visit http://www.businessol.com.