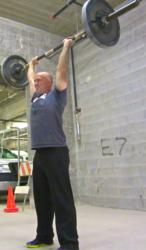 CrossFit is the quintessential fitness program, and best of all...it's scalable.
Chicago, IL. (PRWEB) January 21, 2013
Chicago based Company Black-Tiger LLC, through its Fitness Department, Black Tiger Fitness http://www.blacktigerperformance.com will debut Black Tiger CrossFit in February, 2013.
An affiliate of CrossFit since July 2012, "We are extremely excited to launch our program" stated Owner Neil Curran. Curran, a Level 1 certified CrossFit trainer and 22 year vet in the athletic/fitness industry is elated at the facility he and fellow Owners, Geoffrey Ruttenberg http://www.geoffreyruttenberg.com and Holly Palin have assembled. "Located at 1217 West Monroe, we feature12,000 square feet of boutique space in the heart of the West Loop. We have combined raw materials and energy with dynamic versatile space" described Ruttenberg. Along with Curran, both Ruttenberg and Palin also hold Level 1 certifications and plan to teach their CrossFit classes when the doors open. Palin, "We worked hard to get to this juncture and our proud of the product we have to offer."
Black-Tiger's CrossFit department recognizes that in sport, fitness and in life, preparation for the unknown provides greater adaptability and opportunity for successful outcome and experience. Black Tiger CrossFit trains in a specialized modality featuring three distinctive methodologies. We focus on the metabolic pathways for cardiorespiratory fitness and health, to which we divide into aerobic and anaerobic endeavors. We add gymnastics to increase coordination, agility, flexibility, core and trunk strength, neurological completeness and balance. Last, we feature weightlifting for power, speed and strength. By combining the aforementioned in performance training or athletic skill development we are able to increase maximum preparation mentally and physically and mold well rounded athletes capable of greatness.
"CrossFit is the quintessential fitness program, and best of all it's scalable. Regardless of athletic ability or fitness experience, it's a must for everyone looking to stay healthy and fit." Stated Curran. According to Palin, "Monthly memberships are available and classes will be held multiple times per day, every day of the week."
###
Black tiger is a unique and extremely adaptive animal that has maximized his variants and abilities to become king of the jungle, not unlike Darwin's survival of the fitness theory. As such, with our namesake, and with our unique and progressive fitness variants and philosophies, we hope to impart the same broad base of skill and athletic competency to provide our clientele with the potential to be as successful in their domains as the black tiger is in his.