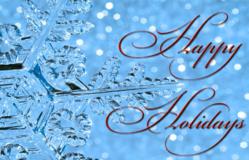 more may be happening in your work group than simply anger over the lack of an additional paid holiday.
Anchorage, Alaska (PRWEB) January 15, 2013
Lynne Curry, Ph.D., SPHR (CEO of The Growth Company, Inc.) has over 30 years of HR management experience. This time of year there seems to be several cases of employees resenting employers for having to work the "eves" of holidays. Today Dr. Curry replies to some questions she's received and helps employers to feel better about the holiday schedule.
This situation is one that really intrigued Dr. Curry to send out a response. "My office manager just forwarded me a series of emails our administrative assistant sent one of our accounting people. Both ladies have spouses who work for overly generous employers who gave employees December 31st as well as January 1st as paid holidays. Our company didn't. Further, I don't think most employers gave these two days off as paid holidays. Help. Was I out of line to expect my employees to work December 31st? Our customers certainly expected we'd be available for calls and questions. More importantly, I'm wondering what's going to happen in July, when the 4th is a Thursday. Will employees expect Friday off as well for two paid holidays?"
Dr. Curry says, "If you didn't give your employees New Year's Eve off as a paid holiday, you're in line with 8 out of 10 employers. According to the Society for Human Resource Management (SHRM) 78.1% of U.S. employers required that employees work the day before New Year's. Further, more than half or 56.4% of U.S. employers required their employees to work December 24th."
Dr. Curry goes on to say, "At the same time, when your employees consider you a Grinch because you don't provide the same generosity their spouses' employers do – as happens to most private sector employers when state, federal and municipal employers give extra paid holidays, your best strategy is the truth. Let your employees read the full SHRM survey, which will additionally surprise them with the information that 89% of U.S. employers will expect their employees to work July 5th, or to use a day of paid time off (PTO) if they want a four day weekend."
Dr. Curry follows up with a thought that "more may be happening in your workgroup than simply anger over the lack of an additional paid holiday." When employees enjoy their work and have a good relationship with their supervisor, they don't email supervisor-denouncing emails to each other over one decision. Three possibilities exist.
"First," adds Dr. Curry, "you may be Grinch. Do you treat your employees with generosity or stinginess all year long? If you're stingy with your employees in flexibility and praise, you're penny wise and pound foolish. Employees commit full effort to help their companies succeed in direct proportion to the degree their supervisors commit to their employees' success."
Next, Dr. Curry advises, "Ask yourself -- what have you done for your employees this week – or do you expect that pay adequately compensates your employees? Without an occasional psychological paycheck, employee morale and productivity dwindles."
"Second, your employees may be "working" you. How did you learn about their emails to each other? My guess, one of them or another employee who secretly agreed with the two who consider you Scrooge "let" you learn about the venting. Employees quickly learn when a supervisor has an easily reached button and pressure their supervisor by letting them know their employees resent their supervisory decisions" Dr. Curry reveals.
"Third," says, Dr. Curry, "while your holiday schedule falls in line with most employers, you may want to truly consider your employees' need for work/life balance. Although I read the SHRM survey and learned most employers didn't grant December 31st or 24th as paid holiday, I gave our employees both days off, realizing that generosity goes a long way in maintaining team morale. Or, if an extra paid holiday would break the budget, what if you allowed a day of guilt-free unpaid leave – which many employers did the day after Thanksgiving and will do July 5th?"
Dr. Curry ends with, "Finally, address this situation right away – make 2013 a year in which you offer all your employees a workplace free from festering discontent."
Dr. Lynne Curry is a management/employee trainer and owner of the consulting firm The Growth Company Inc. Send your questions to her at lynne@thegrowthcompany.com
You can follow Lynne on Twitter @lynnecurry10
© Lynne Curry, January 2013, http://www.thegrowthcompany.com