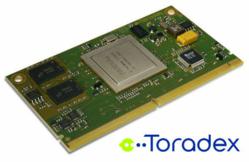 The Apalis ARM Module family is a new computer module architecture
Horw, Switzerland (PRWEB) January 15, 2013
Toradex has announced the availability of CAE data for the Apalis Evaluation Board, providing further support for their new Apalis ARM Computer Module product family.
The CAE data is available as Altium Designer format and PDF files. The data provides a full reference design, including IPC-7351 compliant Component Library, Schematic, Assembly Drawing and Bill of Materials. This data can be used as the starting point for the development of an application specific carrier board to suit custom designs incorporating the Apalis ARM Computer Module.
The Apalis ARM Module family is a new computer module architecture which aims at seamlessly complementing the very successful Colibri family with a number of high speed and graphics interfaces, allowing Toradex' customers to further expand their market reach.
The CAE data for the Apalis Evaluation Board can be downloaded from:
http://developer.toradex.com/hardware-resources/arm-family/carrier-board-design
For more information on Apalis ARM Modules please visit:
http://www.toradex.com/products/apalis-arm-modules
About Toradex
Founded in Switzerland, today the Toradex network stretches across the world. Its direct sales model and local service approach puts Toradex in regular contact with more than 3,000 customers around the globe. Toradex supplies embedded computer modules for demanding applications and offers premium support services to help its customers rapidly bring product to market. Toradex's strategic vision and long term orientation makes it the company of choice for ambitious and creative people.
Toradex products are deployed within a diverse range of markets and industries. Typical industries include: automotive, medical devices, laboratory equipment, point of sales, gaming machines, navigation systems, musical instruments, machine control, virtual reality simulation, digital signage, traffic control systems, building automation, security systems, robotics, process control and auto pilots.
Swiss. Embedded. Computing.
Meet our engineers at:

Vision Summit, Bangalore, India, February 14-15 2013
EFY EXPO, Delhi, India, February 21-23 2013
Embedded World, Nuremberg, Germany, February 26-28, 2013
DESIGN West/ESC Silicon Valley, San Jose, USA, April 22-25, 2013
IPC & EMBEDDED EXPO 2013, ShenZhen, China, August 1-3, 2013
DESIGN East/ESC Boston, USA, September 30-October 3, 2013