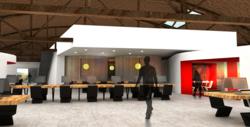 (PRWEB) January 15, 2013
LOS ANGELES, CA (1/15/2013)—Hackman Capital Partners, LLC, will welcome SteelHouse to their creative office campus this spring when construction is completed at the multi-million dollar redevelopment in the Hayden Tract.
SteelHouse pre-leased the full 17,800-square-foot building at 3644 Eastham Drive, one of three industrial facilities being converted to creative offices at the WorkScapes campus, along with the
construction of new five-story parking facility.
Hackman Capital Partners is working with SteelHouse's architects, Rios Celement Halle, to transform the two-story interior of the Eastham building into a creative showcase. Abramson Teiger is the lead architectural firm for the campus redevelopment.
"We were thrilled to find a space that offered as many unique attributes as WorkScapes at the Hayden Tract," said Mark Douglas, Chief Executive Officer of Steelhouse. "We are completely customizing the space with curved walls, kitchens, outdoor BBQ pits, and a mini-brewery. Our vision is to develop a space that will inspire our team and establish an environment that drives creative vision."
SteelHouse will move 75 employees to the building in May.
Hackman Capital Partners began its transformation of the creative office campus early December, following the closing of a senior loan obtained from Deutsche Bank for the renovation of the property. When construction is completed, the campus will offer 126,400 square feet of two-story, loft-like WorkScapes and about 740 tenant parking spaces between the new garage and new surface parking areas. Hackman Capital will customize the building interiors for other tenants, like SteelHouse, who pre-lease the space.
According to Michael Hackman, Chief Executive Officer and Founder of Hackman Capital Partners, the spaces can reflect personalities as unique as the tenants who occupy them. "We have seen a migration away from traditional offices to creative work environments," said Hackman. "Imaginative, open work spaces are becoming recruitment tools, and the idea is to create a place where employees are motivated to work and create as a team. WorkScapes at the Hayden Tract will not only provide inspiring office environments, they will encourage a more collaborative business culture."
To accomplish that mission, the new design aesthetic at WorkScapes is leveraging the industrial feel of the buildings' original structural and architectural elements to maximize open floor plans and tall ceilings that expose beautifully detailed wood trusses and structural steel beams. Large factory style windows will flood interiors with plenty of natural light. Landscaping will feature multiple outdoor tenant areas with patios and views of the Baldwin Hills. As an added feature, WorkScapes at the Hayden Tract is promoting a pet-friendly environment.
"Creative people don't work on a traditional 9-5 work schedule. What better way to maintain a happy, uninterrupted work flow than to create an environment where employees want to be," said Hackman.
***
More about Hackman Capital
Founded in 1986 and headquartered in Los Angeles, Hackman Capital is a privately held, asset-based investment firm that focuses on the acquisition of industrial real estate and the purchase and sale of industrial equipment. The firm currently owns, through its affiliated entities, 100 facilities throughout the United States, totaling approximately 18 million square feet and more than 1,300 acres of developable land. Hackman Capital also has conducted hundreds of equipment acquisitions, dispositions, and liquidations on four continents. With more than 26 years of experience in acquisition, redevelopment, and asset management, Hackman Capital is known across marketplaces for its ability to successfully navigate complex transactions and financial restructurings involving real estate and equipment. The company is based in Los Angeles. For more information, visit http://www.hackmancapital.com.
More about SteelHouse
SteelHouse™ (http://www.steelhouse.com), an Ad Tech award-winning company, brings innovative advertising solutions to brands, agencies and eCommerce marketers. SteelHouse reaches more than 125 million consumers a month, across hundreds of the world's largest brands. The company's behavioral marketing solutions including A2, Real Time Offers™ and Retargeting, enable companies to drive high engagement in their ads, on or off their site, based on their consumers' real-time behaviors. The SteelHouse team is comprised of veteran direct marketers and engineers from eHarmony, E*TRADE, Oracle and the Rubicon Project. SteelHouse is based in Los Angeles, Calif.