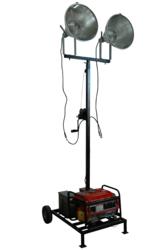 The WAL-ML-2XM-3G is designed for operators that need the long run time and power of traditional light towers without trailers or diesel maintenance.
Kemp, TX (PRWEB) January 15, 2013
The WAL-ML-2XM-3G Mini Light Tower from Larson Electronics provides operators on worksites, emergency scenes, outdoor events and similar locations with a portable lighting system that can operate independently of external power sources while providing enough light output to illuminate up to 2 acres. This telescoping tower can be elevated to 7 feet in height for increased coverage using an included hand crank and is constructed of powder coated steel for strength and durability. A pair of 1000 watt metal halide lamps provides a combined total of 220,000 lumens and distributes it in a wide flood pattern for efficient and effective illumination of large areas. Each lamp can be adjusted independently of the other and is mounted to a removable mounting bracket that can be unlocked and removed from the tower for transport. The tower is fitted with a heavy duty base equipped with rubber tires to allow operators to easily roll the entire unit into position without the need for towing or lifting apparatus. A single 6000va generator powers the metal halide lamps for up to 6 hours on a single tank of fuel and is mounted to the base platform for easy access and convenience. This generator also includes standard 120 and 240 volt outlets to allow users to connect tools and electrical devices for added convenience. The ballast system for the metal halide lights is contained within a heavy duty steel housing which is also mounted to the tower base, helping to distribute more weight to the bottom of the tower for increased stability. The WAL-ML-2XM-3G mini light tower is a highly versatile and powerful tower lighting system that provides the convenience of full portability in a package that does not require dedicated towing hardware to deploy. Operators can literally load several of these systems onto a truck and deploy them as needed around the site, where workers can then simply set them up and turn them on. These mini light towers are ideal for construction sites, commercial operations, outdoor events, and emergency scenes where effective lighting that can be quickly and easily deployed without the need for external power sources is required.
"The WAL-ML-2XM-3G is designed for operators that need the long run time and power of traditional light towers without trailers or diesel maintenance," said Rob Bresnahan with Larson Electronics' LarsonElectronics.com. "We can configure this light tower to the application, including mounting various HID and LED lamps atop the light tower."
Larson Electronics produces a full range of industrial and commercial lighting equipment, HID work lights, portable work lights, Light towers, and LED work lights. To view the entire Larson Electronics line of industrial grade lighting solutions, visit them on the web at Larsonelectronics.com. You can also call 1-800-369-6671 to learn more about all of Larson Electronics' lighting products or call 1-214-616-6180 for international inquires.