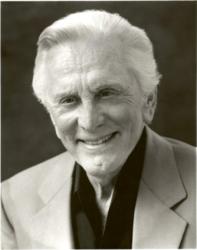 His acting talent is the underlining basis for his extraordinary success, but it's also due to his uncanny understanding and appreciation for the role that publicity and promotion play in the ultimate success of movies that made him a box office sensation
Los Angeles, CA (PRWEB) January 15, 2013
The Publicists of the International Cinematographers Guild (IATSE Local 600) will present iconic actor Kirk Douglas with its 2013 Lifetime Achievement Award at its 50th Annual Awards Luncheon to be held at the Beverly Hilton Hotel on Friday, February 22.
"No other actor personifies the term 'iconic movie star' more than Kirk Douglas," said Awards Committee Chairman Henri Bollinger. "His acting talent is the underlining basis for his extraordinary success, but it is also due to his uncanny understanding and appreciation for the role that publicity and promotion play in the ultimate success of movies that made him a box office sensation."
The ninety-six-year old Douglas has starred in more than 80 motion pictures and television shows, starting with The Strange Love of Martha Ivers in 1946 until his most recent film, the 2004 Illusion. He has received three Oscar® nominations for Best Actor for Champion (1950), The Bad and the Beautiful (1953) and Lust for Life (1957). The Motion Picture Academy® presented him with a special Lifetime Achievement Oscar® in 1996.
He started his acting career on Broadway, interrupted by his WWII service in the United States Navy. Other memorable motion pictures include Young Man with a Horn, Gunfight at the OK Corral, Paths of Glory, Spartacus, Lonely are the Brave, The List of Adrian Messenger, Seven Days in May, Cast a Giant Shadow and Is Paris Burning?
Douglas has probably received more honors than any other living actor, including the Medal of Freedom from President Jimmy Carter, the National Medal of the Arts from President George W. Bush and First Lady Barbara Bush, lifetime achievement awards from the American Film Institute, the Screen Actors Guild, the National Association of Theater Owners and the Caesar Lifetime Achievement Award. He received a Kennedy Center Award, the King David Award in recognition of contributions to Judaism, three Emmy nominations, and honors from France, Germany, Italy and Portugal. He is also a prolific author, with novels, children's books and an autobiography.
Previous recipients of the award include George Burns, Lew Wasserman, Warren Beatty, Arnold Schwarzenegger, Clint Eastwood, Julie Andrews, Harrison Ford, Sylvester Stallone and Robert Zemeckis. Last year's recipient was Carol Burnett.
Other awards to be presented are the Motion Picture Showman Award, Television Showman Award, the Press Award; the International Media Award; the Maxwell Weinberg Awards, which recognizes outstanding accomplishment in the field of publicity; the Les Mason Award, given to a publicist for lifetime achievement; the Excellence in Still Photography Award; and the Bob Yeager Award, which recognizes significant community service.