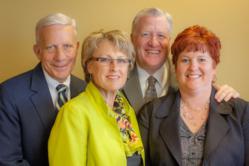 Greenwood Village, Colo. (PRWEB) January 15, 2013
Michael Speer, perhaps Colorado's best-known financial advisor, announced today he is opening his own firm, Speer Wealth Management, Inc. The company will provide full service financial services and wealth management for investors.
"This is an exciting time for me, and my team," said Speer, President and CEO of Speer Wealth Management. "We prefer a small, personal feel for our business and launching Speer Wealth Management gives us the opportunity to do more of what we love – working hard for our clients to help them grow and manage their investments."
Speer had been at Greenwood Village-based Presidential Brokerage for over 17 years, sat on its board of directors, and helped lead that firm to its current status as one of Denver's largest independent financial management companies.
"In my prior situation, I felt the company was growing to a point that I could no longer be as hands-on with my clients and their portfolios as I desired to be," said Speer. "I've arrived at a stage in life where I'm able to appreciate each client relationship even more, and I committed myself to creating a firm that allows me to do that."
Joining Speer in his new venture is his longtime colleague Robert Blake. Collectively, Speer and Blake have more than 60 years experience as investment professionals.
Speer is a well-known personality in Colorado due to his regular appearances on radio and television where he offers expert advice on the markets and investment generally. Speer is also very public about his support for causes he supports, including the Colorado Cancer Fund, a check-off charity that taxpayers can support when they pay their state taxes. Speer is also a volunteer with Special Olympics of Colorado, where he acts as Master of Ceremonies at the Special Olympics annual Mardi Gras fundraising event.
Speer Wealth Management is independently operated but is registered with Cambridge Investment Research based in Fairfield, Iowa. Cambridge, an industry pioneer, is partnered with over 2,100 independent financial advisors supported by over 400 home office staff. "Our partnership with Cambridge means our clients enjoy access to 'big company products and services' but experience a personal, small company service and culture," Speer said.
Speer Wealth Management is located at 5200 DTC Parkway Suite 530. Greenwood Village, CO 80111. For more information call 303.900.9100 or go to http://www.speerwealth.com.