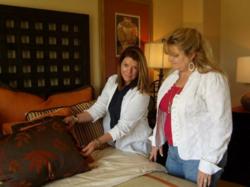 No previous experience is necessary to earn a 1 week Certification from The Academy of Home Staging and start a Home Staging business.
Dallas, Texas (PRWEB) January 15, 2013
Kim Kapellusch, Owner and Founder of The Academy of Home Staging is proud to announce, the industries' leading home staging certification training programs first class of 2013 will be held in Dallas, TX, the week of February 18th – 22nd, taught by Dallas' own Michelle Lynne.
Michelle Lynne is owner and founder of "by Michelle Lynne" http://www.bymichellelynne.com/ , Dallas' premier resource for home staging, organizing & design. Michelle Lynne is a member of the Texas Association of Interior Design, the Real Estate Staging Association, and the National Association of Professional Organizers. She has achieved her RESA-Pro designation, held the position of Vice President of her local RESA chapter, is one of the founders of Showings to Closings, a monthly seminar given to Dallas area real estate agents, and is also a RESA Approved Instructor, providing course instruction for MCE credits to Texas real estate agents.
Kapellusch, stated, "I am pleased to announce that Michelle Lynne will once again be teaching our Home Staging Certification class." She continued, "Michelle is an excellent instructor, and well loved by her students. She brings tremendous talent, knowledge and experience to the classroom. Michelle makes the learning experience enjoyable and exciting for all who attend her classes."
The Academy of Home Staging teaches students to earn a living designing interiors of homes that are for sale so that the home sells faster and for more money. Due to high returns on property owners staging investment, as well as being a tax write-off, Home Stager's are finding themselves in high demand by home sellers across the country. Kapellusch notes, "This fastest growing segment of interior design is perfect for anyone who has a passion to have their own design business up and running in about 30 days after graduating from the 1 week program." As an additional bonus to The Academy's already fully encompassing Home Staging Business Start-up Course, the Dallas Feb. 18 -22, 5-day course will also include a special field trip exercise to the local Design Center, sure to help new Home Stagers develop an eye for high end design strategies.
The Academy of Home Staging offers industry leading training that is unmatched by other Home Staging Training courses. Several key factors set The Academy's training program apart from the rest:

The only Advanced Home Staging Certification available.
Limited class size (8 maximum students) to provide personalized coaching and mentoring to our students by our Instructors.
All our Advanced Certified instructors are leaders in the Staging Industry who incorporate real life examples, suggestions, advice and ideas in each training class.
Over 10 hands-on exercises including a minimum of 3 in-field exercises. These exercises are crucial to providing students a complete education and insuring the ability to successfully start and manage their own Home Staging business.
Student and Instructor experience together, apply and discuss all solutions and approaches for all areas of the design and business aspects to a Home Staging Business.
Student discovery and questions are encouraged in every session.
Complete Business CD for each student upon successful completion of the class, and passing the Certification exam at the end of the class.
Committed to the success of every student that comes to The Academy of Home Staging. Ongoing education, regular Alumni newsletters chock full of new information and tips and access to one-on-one coaching.
The complete list of 2013 classes from The Academy of Home Staging, and the locations are:
February 18th – 22nd, Dallas, TX
February 25th – March 1st, Seattle, WA
March 4th – 9th – Tampa Bay, FL
March 11th – 15th – Los Angeles, CA
April 1st - 5th - Houston, TX
May 6th – 10th – Washington, DC
June 10th – 15th – New York, NY
September 9th – 14th – New York, NY
September 23rd – 27th – Los Angeles, CA
October 7th – 12th – Tampa Bay, FL
October 14th – 18th – Seattle, WA
October 28th – November 1st – Washington, DC
November 4th – 8th – Dallas, TX
Interested students should call 1-800-574-5576 today to register and secure their seat in our limited enrollment classes and realize these fantastic savings! All students will be eligible to apply for our finance program.
ABOUT THE ACADEMY OF HOME STAGING: The Academy of Home Staging was founded by Kim Kapellusch in 2005 in the Los Angeles area, and has quickly become the Industries' premier Home Staging and Redesign Certification Training Program. Today The Academy operates in California; Dallas, TX; New York City, NY; Seattle, WA; Tampa Bay Area, FL; and Washington, DC. In addition to its leading classroom certification classes The Academy offers a full CD based course, ongoing education and one-on-one business counseling.
For more information call 1.800.574.5576 or visit http://www.TheAcademyOfHomeStaging.com.