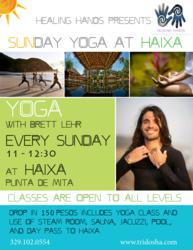 Yoga has replaced 3 of my 5-day/week high cardio workouts, plus the noticeable changes to my physique, energy and confidence spur me on.
Puerto Vallarta, Mexico (PRWEB) January 17, 2013
Healing Hands now offers Yoga Classes every Sunday at 11am at the Haixa Retreat Center in Punta Mita, Mexico. Classes are open to all visitors and residents that are interested in getting stronger and healthier, inside and out. The new addition begins with the series"Sculpt a New You!"designed to improve, tone, and shape the figure through yoga. At the same time it ignites the spirit and calms the mind.
For over 20 years Healing Hands has offered Ayurvedic treatments including massage therapies and bodily cleansing. Now yoga has been added to its offerings because yoga is also an approach to full body balancing, healing and cleansing. Like Ayurveda, yoga supports well-being by creating health in body, mind and spirit. It builds a well-balanced internal environment that provides equilibrium from the inside as it helps participants look great on the outside.
Healing Hands believes one of the many gifts of yoga is that an improved figure and physique result from a body that at a deep internal level is cleaner, stronger and better balanced. This supports the whole person through all stages and transitions in life.
The return of the Yogi
Developed in India over thousands of years, yoga had its beginnings during a period of great turbulence and struggle. Rishis, the seers of India, entered into profound meditation and were given the keys to unlock the great mysteries. Inspired by this pure yogic knowledge, they taught and practiced yoga to remain connected with the universal source of life. Practitioners engaged in yoga to overcome fears and face the challenges around them with equanimity. Seekers entered into a moving meditation to overcome passions, worries and confusion. This is the same ancient, sacred practice that is offered today in yoga.
In its original and purest form, yoga is a way of life that allows the practitioner to embrace all aspects of health. It supports conscious, healthy eating habits, bathing rituals, meditation, social interactions and spiritual rejuvenation. "Sculpt a New You" provides the practitioner with whatever chisels they may choose to sculpt and shape body, mind and spirit.
The time is Now!
Throughout time, human beings have continued to search for ways to improve themselves physically, emotionally, spiritually and mentally. Today there are many that seek more comfortable lifestyles, greater health, stronger relationships, and improved appearance.Yoga offers the capacity to attain all of these goals, and more. By helping to better structure the physical body, Healing Hands yoga can help restore the body's vital balance. No matter where a person is at this moment in a search for improved well-being, now is the moment to embrace yoga and bring together the astounding power of a unified, balanced body, mind, and spirit.
Our teacher
Brett Lehr is a devoted yogi, Thai massage therapist, music lover and intrepid seeker of the perfect surf waves. Yoga is his life's passion and he is dedicated to sharing the gift of this practice with others. Brett brings to his teaching a love of the history and philosophy of yoga, and a powerful belief in the transformative potential of regular practice.
Brett gained his certification under "The Rock of Yoga," Sri Dharma Mittra; who is considered one of the most prolific and influential yogis of our time. In accordance with those teachings, Brett's yoga classes combine elements of the Hatha and Raja traditions, and are infused with beautiful music, warmth and humor, yoga breathing and meditation.
Our location: Haixa
HAIXA is a full-service spa with a dedicated focus on personal well-being. Exceptional in its commitment to helping guests achieve balance, flexibility, and optimal health, HAIXA provides access to a state-of-the-art gym with comfortable locker rooms, a yoga studio, Pilates classes, a Jacuzzi, sauna and steam baths.
HAIXA not only uses the latest equipment and techniques, but also provides professional guidance to ensure the best possible experience. At HAIXA guests can safely push the limits of their strength and endurance and then experience the richness of being pampered, soothed and experiencing deep relaxation.
Healing Hands provides a licensed massage therapist, Ayurvedic practitioners, a wellness coach and a health mentor with more than 20 years of experience in the wellness industry. It specializes in Ayurvedic treatments and body reeducation to treat pain, attain balance and achieve quality of life. Healing Hands instructs spas in Ayurvedic treatments and advanced massage techniques, as well as conducts wellness seminars. 305-810-8534.