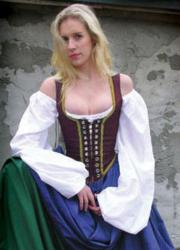 We remain committed to providing the best quality renaissance costumes, produced using fair trade standards, at the best possible prices.
Raleigh, NC (PRWEB) January 15, 2013
Eleven years ago, back in 2002, Jeremy Clos was serving as the Entertainment Director of a renaissance faire in North Carolina, and struggling to convince his cast of the proper combination of historical and theatrical costuming for their costuming. The typical cast member had really only seen portraits of the nobility, but had little idea of the actual cut and construction of everyday renaissance costumes. The worries of everyday life, including the need to perform real work, such as farm labor, throughout the year had influenced the daily dress of everyone.
Research ensued, and Clos carefully tracked down suppliers of both meticulous reproductions, as well as high-quality theatrical styles. After compiling a list of suppliers for his cast, Clos realized that other renaissance faire performers must have a similar problem, so he created an online resource, The Tudor Shoppe, to provide other participants access to the renaissance costumes, jewelry, and accessories which he'd located for his cast.
Fast forward eleven years and what had begun as a small side business has become the life work of Clos. "I had imagined I might make enough money to take my wife to Europe, " Clos says, laughing. "We did eventually get to visit England, but we spent the trip finding more styles we could import for the store."
While visiting the UK, Clos tracked down authentic Heraldic and Symbolic Badges reproduced from those in the collection of the Ashmolean Museum in Oxford, games reproduced from extant originals, authentic pottery and glassware, pewter items, and more. That which could not be located in production form was carefully photographed and sketched so that manufacturers could be located to reproduce the items.
"Having things made in the United States is very important to me," Clos says. "I just can't justify outsourcing manufacturing if a US-based firm can be contracted to produce products for our store. "
As other needs were identified, Clos added them, even creating a separate web presence to retail biblical costumes and accessories, Christian Costumes. The same commitment to quality and unique merchandise was applied to the items located, and created, for the church pageant collection.
"I'm very proud that we're celebrating our 11th anniversary in the trade. We have so many imitators now, both foreign and domestic, but we remain committed to providing the best quality product, produced using fair trade standards, at the best possible prices, " concludes Clos. " I look forward to the next eleven years."
About The Tudor Shoppe:
The Tudor Shoppe, founded in late 2001, are purveyors of a varied selection of medieval costumes, renaissance clothing, and madrigal costumes for men, women, and children. Unlike many other online retailers, The Tudor Shoppe features a commitment to products produced in, and shipped from, the United States. In the collection, shoppers will find Tudor-era footwear, medieval jewelry, accessories, and even reproduction pavilion tents. The Tudor Shoppe emphasizes both quality and economic patriotism in the products they carry.