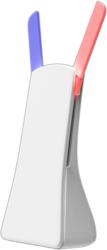 Replace the usual "Wanna have sex tonight?" with a flirtatious sign which brings anticipation and excitement.
New York, NY (PRWEB) January 16, 2013
The Moodsign is an innovative non verbal communication product designed to help couples fight routine, stop the guesswork based on body language and keep the fun and romance alive in their relationships.
They say that to make a relationship last you have to keep the romance alive. Relationships are undoubtedly a lot of hard work but they are also about all those sweet, subtle little signs that make things special for the couple. The Moodsign offers couples a fun and smart way to flirt and express their hearts' desires. It replaces the boring "Wanna have sex tonight" with a flirtatious sign which brings excitement and anticiptation. The Moodisgn is a reminder that that couples need to break their daily routine and find time for themselves.
"I used to be able to greet my husband at the door in my sexy lingerie, but these days with kids running around that's just not possible anymore! The Moodsign is our new way to keep things exciting. When he goes upstairs to change and sees the Moodsign turned on in the master bedroom, he knows that I am thinking about him and his night just got better. Same goes with me when he turns it on for me with a note like "I'll take care of the kids tonight" or "foot massage and mindless tv?" It's our new way to flirt! We love it!" says Sarah C., NY, an early user of the Moodsign.
The more clearly people in relationships share their needs and desires, whether they are sexual or getting some help around the house, the more likely they are to be met and the more connected and satisfied they feel in their relationships!
A current promotion for Valentine's Day offers free shipping for a limited time.
For more information about the Moodsign, please visit http://www.themoodsign.com
About Moodflag LLC:
Moodflag LLC is a family business run by two brothers Chris and Julien who both have graduate degrees in business management, extensive worldwide travel experience and a background in running startups. Moodflag LLC designs and sells innovative products in the United States and worldwide.
Pictures and Press Material: http://www.themoodsign.com/media_kit