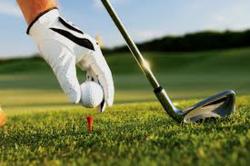 Red Hawk Golf Course describes itself as "Drop dead gorgeous." With its wide-open spaces and the Organ Mountains in full view, it's hard to argue.
El Paso, Texas (PRWEB) January 16, 2013
After extensive negotiations, Red Hawk Golf Club has authorized Grab it Site to offer its subscribers an exclusive opportunity to enjoy, well … golf. Grab it Site is known locally for its unique approach at ensuring the BIGGEST, BEST, and MOST aggressive DEALS in Las Cruces, New Mexico and El Paso, Texas – and for legit close by golf courses.
Red Hawk Golf Club covers 200 acres (100 acres of turf, 50 acres of planted native grasses, and 50 acres of natural desert) in southern New Mexico's high desert terrain (elevation: 4.300 feet).The course is noteworthy for its links-style features, its rolling and generous greens, and its challenging yet spacious design.
"I have played over 30 of the top 100 golf courses in the country, and Red Hawk ranks right up there with the best of them." - Bill Eschenbrenner, Member, National PGA Hall of Fame
Here's what the Best Golf Deal at Red Hawk Golf Club looks like now: - 18 Holes of golf ball play, A Large Bucket of Range Balls are taken care of, something delicious off the menu in the Club restaurant is offered and A Golf Cart Rental should be all the reasons to live it up on the course with this deal, but wait there's more.. Grab it Site CEO Rick Morales stood his ground and demanded additional value in this opportunity by commenting, "That's it?"... After an awkward moment of silence these remaining offers were then agreed upon - A twilight rate plus cart rental good for anytime of the day, a club house gift card that can be redeemed at its pro shop then some local restaurant gift cards that could be used the day this offer gets delivered to a doorstep is how awesome this deal then became.
For consideration – Grab it Site was offered just a few hundred of these 5 visit golf club cards and more than a few people in Las Cruces and El Paso subscribe to Grab It Site. If you click through here you can go through the details of this local golf deal and get signed up to play. This deal is only valid for those that get one of these limited inventory golf club cards.
It's time for Golf.
See an interactive flyover of Red Hawk Golf Course: http://www.bestapproachflyovers.com/RHW_redhawk/
To learn more and get this deal go to: http://candylab.com/Las-Cruces-Golf-Courses/