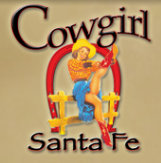 Santa Fe, NM (PRWEB) January 14, 2013
Santa Fe, NM, dining and music hotspot Cowgirl has been part of the dining and night time entertainment landscape in town since 1993. 2012 has been a banner year with the company bringing in entertainment for the enjoyment of guests virtually 7 nights a week. Jan. 22, 2013 is all set with Gary Reynolds hitting the stage at the Cowgirl from 8 p.m. to 11 p.m. This is a featured listing on SantaFe.com, Santa Fe's premier on-line visitor guide.
Gary Reynolds was born and grew up in the great State of Texas. In the early years after that the artist moved to New Mexico in 1991 and then settled in the East Mountain Range of Tijeras, N.M. Reynolds learned to play the guitar at the age of nine years old. Both a singer and song writer, Gary is influenced most by John Denver, Michael Martin Murphey and Neil Young.
In recent years Mr. Reynolds performed with Bruce Channel, who wrote and sang the number one hit, "Hey Babe", in 1961, and was a primary music mentor for the artist. Music from Austin, Texas, New Mexico and Colorado are also greatly influence Gary.
Growing and learning the entertaining business Mr. Reynolds played in several western opries and bars of Texas. A well traveled music man, Mr. Reynolds has played in bars and entertainment hotspots New Mexico from Red River N.M. to Socorro N.M as well as playing throughout Colorado and Oklahoma in bars, restaurants and coffee houses. Mr. Reynolds career of playing and performing spans more than 38 years.
Songs to look and listen for from Mr. Reynolds in the near term are "Red River Glow", "Harvey's Song", "Flying High Like An Eagle", "Green Chili Blues" and "New Mexico Moon". If you like some of the singers mentioned here then enjoyment of Mr. Reynolds' style of music Folk Country and Western style of playing will definitely be on the menu for both locals and visitors alike at the Cowgirl on Tuesday, Jan. 22.
Mr. Farmer was selected as a finalist in the NMMA in the 2006 The New Mexico Music Awards for writing and singing "Red River Glow". "Flying High Like an Eagle" will be on CD Call "Son Of The Best of New Mexico Western!".
About Cowgirl:
Since 1993, the Cowgirl, which now occupies almost the entire block where it started, includes a restaurant, a billiard parlor, a commercial catering kitchen and several private party rooms. The patio is one of the most inviting summertime venues for locals and tourists alike and the Cowgirl has become a local institution.
Contact Information:
Barry Secular
Cowgirl
319 S. Guadalupe St.
Santa Fe, NM 87501
(505) 982-2565
About SantaFe.com:
SantaFe.com provides locals and visitors to Santa Fe alike the most current interactive platform for events, music, arts, business, dining and lifestyle. SantaFe.com is a division of Hutton Broadcasting, located at 2502 C. Camino Entrada, Santa Fe, NM 87507
Contact Information:
Scott Hutton
SantaFe.com / Hutton Broadcasting
http://www.santafe.com
(505) 471-1067 (Media inquiries only, please)