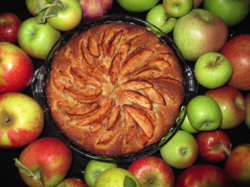 T'ART is a crowd pleaser
Brookline. MA (PRWEB) January 17, 2013
The dark, cold mornings and early evenings of the northeast inspire folks to cook soups, stews and bake a lot! With the basics handy, mix eggs and butter with T'ART to create an easy and tasty treat. Enjoy the different varieties of apples and pears with a splash of cranberries for color!Here, Linda Amir shares her three baking tips for an easy homemade winter dessert:
1. Use a mix of apples or ripe pears that you have at home – don't even skin them – just wash, slice or chop
2. Add frozen cranberries to the fruit for a rich color. A squirt of lemon – dash of brown sugar and you are ready to throw on the prepared T'ART mix
3. Lightly grease a pie plate, tarte or springform pan or any baking dish – add in the prepare batter and top with the prepared fruit – one nice flat layer..
There is nothing like the smell of a homemade pastry in the cold of winter. Make a pot of tea and slice yourself a piece of T'ART and you have the recipe for a delightful afternoon. Linda says, "T'ART is a crowd pleaser and is the answer to the desire for something just a tad sweet. It also freezes well – so don't hesitate to slice, wrap in saran and place in a freezer ziplock till the next time. Simply heat up "T'ART in the toaster oven and less than five minutes, your craving will be satisfied!"
About Amour Creations:
Created with a unique idea and a sweet tooth in mind, Linda Amir, founder and creator of the T'ART maker, set out to create the perfect baking mix that's quick, easy and delicious. An alternative to pies and cakes, T'ART is a baking mix that pairs "art" with "tart" and has been providing no-fuss sweet and savory tarts to customers for a little over two years. For locations on where to buy, visit http://amourcreations.net/find-us-near-you/ or purchase the mix online at http://amourcreations.net