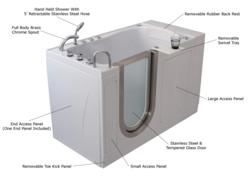 This new walk bathtubs FAQ page is packed with many of the top questions customers have when considering making a purchase such as this.
New York, NY (PRWEB) January 15, 2013
Aging Safely officially announces that its elderly bathtub and ADA shower shopping cart website features a new frequently asked questions page. This FAQ page provides shoppers with access to common questions pertaining to walk bathtubs that promote aging in place.
The FAQ page is well organized and user-friendly. On the left side of the page is a list of walk bathtubs, ADA shower stall products and other fall prevention bathing fixtures. A list of FAQ's is on the right side of the page. Customers can conveniently select a question of their choice to find useful information on aging in place technology, ADA compliant showers, bathtubs for senior citizens, and hydrotherapy.
Customers who want to age in place may have questions about an ADA shower or step in tub installation. Many customers want to know whether walk bathtubs, ADA compliant showers, and other products that promote aging at home require a new water heater, a plumber or an electrician for installation. If visitors have questions about who will install their new appliance, they can easily view the answers relating to this topic as well. The page will tell them about maintenance of a hydrotherapy elderly bathtub or how to clean a hydrotherapy spa. Surprisingly, these unique appliances require very little care.
Additionally, the FAQ page covers information about customizing an ADA shower or elderly bathtub. Shoppers will learn how they can select a right or left-hand swing door as well. Some ADA compliant showers and walk bathtubs are available in special colors. Senior care tubs and showers can beautify homes while allowing customers to age in place. The FAQ page addresses whether customers can obtain a prescription for a step in tub or ADA shower stall. The FAQ explains the benefits of hydrotherapy and recommends an examination from a physician to determine whether a hydrotherapy spa could be prescribed.
An ADA shower or walk in tub may make the difference between aging at home and moving to assisted living. Using the new FAQ page will allow shoppers to make informed decisions about elderly care bathing fixtures that promote aging in place. The FAQ page is accessible 24 hours daily, so customers can get valuable information to help them choose a fixture that makes independence more attainable. Additionally, customers who have further questions can simply call a representative or fill out a convenient form to receive a nonobligatory consultation about walk bathtubs and showers.
Contact Information:
Tye Wennstedt
Info(at)walkbathtubs(dot)com
720-495-5497